Neo-classical Cannon Street scheme set for 'modernising' facelift
Buckley Gray Yeoman has lodged proposals to radically rework a six-storey neo-classical office building in the City of London just a stone's throw from St Paul's Cathedral.
The scheme would remove the portico roof feature of 25 Cannon Street and fill in an existing colonnade, but it would also add new fourth- and fifth-floor terraces with glass balustrades and a roof terrace.
Designed by Jean Paul Carlhian in association with RHWL Architects, and completed less than two decades ago, 25 Cannon Street is unlisted.
However in addition to being close to grade I-listed St Paul's, it is opposite 30 Cannon Street, by Whinney, Son & Austen Hall, which was given grade II listing in 2015 as part of a tranche of post-war office buildings. It is also next to Jean Nouvel's One New Change shopping centre.
Buckley Gray Yeoman said its proposals would replace the current building's external elevations to "create a contemporary facade in keeping with the demands of the modern office tenant".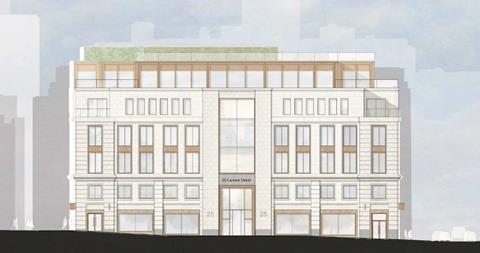 "A rationalisation of neoclassical features and an enlargement of the reception entrance will help in giving the scheme a contemporary look and feel," it said in the design and access statement accompanying the application.
"The aim is to present a building with efficient and attractive office spaces and generous floor to ceiling heights. As well as meeting the demands of modern office tenants, the contemporary facade also respects and responds to the surrounding townscape."
A planning statement supporting the application, submitted by consultancy Gerald Eve, said a "key issue with the functionality" of the current building was a lack of daylight and outlook within the office floorspace, resulting from its small window openings.
It said the building's fifth floor would be completely reclad with larger openings created on the western façade to maximise views to St Paul's Cathedral.
The statement added that although the current building had "external spaces" on the fourth and fifth floors, they were not accessible to the occupiers of those floors and were only used for maintenance purposes.
According to the planning documents, the proposals to update the building would only result in the creation of 265sq m of additional floorspace, increasing the total to 15,582sq m.
The quantity of floorspace earmarked for office use would potentially reduce because of a greater quantity of space at street level pencilled in for flexible uses, which could range from office space to retail.
The City of London Corporation has set a target of determining the proposals by late October.