Practice bags planning for 399-bed scheme that envelops grade II building
Birmingham has given the green light to a 10-storey student block that incorporates the remaining parts of a grade II-listed terrace on the edge of the city's Chinatown area.
KKA Architecture's proposals were drawn up for Bricks Developments and would deliver 399 student rooms, communal facilities and four ground-floor shops on a 0.32ha plot in Upper Dean Street. They were approved by the city council's planning committee at a meeting last week.
While the scheme – earmarked as one of Bricks' "True" student developments – dwarfs the three-storey buildings at 42-45 Upper Dean Street, which Historic England said dated back to the early-to-mid 19th century, planning officers said the proposals were more respectful to the building than an approved 2015 scheme by Chetwoods Architects.
The KKA scheme introduces a glass atrium between the listed structures, which most recently served as commercial buildings, and the student development. The principle of redeveloping the site – and just retaining the facades of the 42-45 Upper Dean Street was established in 2009 with the approval of a two-hotel scheme for the site, one of which has been built out and is immediately east of the listed building.
Recommending the scheme for approval, planning officers said the previous plans, which would have delivered 333 student rooms, had served to "preserve and enhance the listed building by refurbishing it and reinstating a pitched roof".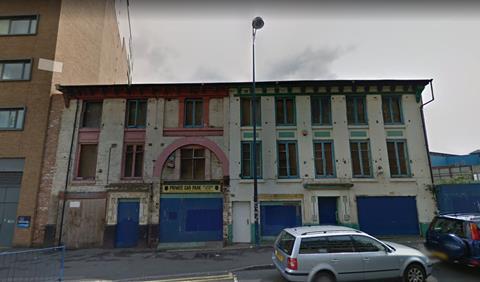 They continued: "The changes sought by the current planning application would not require changes to, or adversely impact on, the listed building and would increase the distance between the existing building and the proposed building on the Upper Dean Street elevation."
The report concluded by confirming the scale, mass and design of the proposal was acceptable and welcoming the site's redevelopment to "improve the setting of the listed building and the appearance of this part of the city, and result in significant regeneration benefits".
Historic England's 1982 listing for the 42-45 Upper Dean Street noted ground-floor alterations and blocked-out windows, but also stucco dressings, bracketed eaves, a first-floor segment-headed casement window flanked by pilasters set within a broad flat arch, and a second-floor sash window flanked by pilasters and standing on a deep sill band.
Heritage observations submitted as part of the 2015 application said: "Although the building elevation is well detailed and of interest, the building itself is now somewhat lost in its surroundings, there being little of comparable style in the immediate vicinity.
"The design appraisal therefore concentrates on how the building's setting can be improved and enhanced."