Riverside elevation of £80m project revealed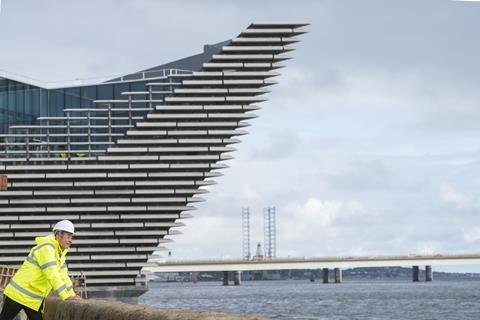 Kengo Kuma has declared himself "delighted and satisfied" with progress at his £80.11m V&A Dundee after his first site visit.
The architect flew in to Scotland just after the temporary cofferdam – which allowed the museum to be built into the River Tay – was removed. This involved digging out 12,500 tonnes of stone and cutting out a structure of vertical metal sheets which was constructed on the bedrock of the river.
It means the museum's whole riverside façade is visible for the first time. A number of photographs were released to coincide with his visit.
The exterior walls are also complete, with all 2,500 cast stone panels now hung on V&A Dundee's walls, which curve both vertically and horizontally.
These panels were made in moulds, weigh up to two tonnes each and span up to four metres. The size, shape and placement of the panels varies around the building, creating changing patterns of shadows as the sun moves around the museum.
The V&A described the project, Kuma's first in the UK, as being on schedule to open next year as well as on budget – although the current pricetag is double the original budget.
V&A Dundee is run independently with its own director and, as well as bringing V&A exhibitions to Scotland, will present the largely untold story of Scotland's design achievements.
The director, Philip Long, said: "It is a real pleasure to have the architect of V&A Dundee, Kengo Kuma, with us today to see the incredible progress that has been made in bringing his vision to life. Everyone working on the design and construction should be incredibly proud of what they've achieved."
Kuma said: "I am delighted and satisfied with what we've achieved so far. The realisation of the strong façade is great. We were able to express the dynamic scale of the interior, too – just as we had planned."
He added: "My inspiration always starts from the place where the project will be. In the past I visited Scotland many times, this very beautiful country, and I'm truly in love with the Scottish landscape and nature.
"I really hope once finished this project will attract many people from the UK, and around the world, to the city and the museum. I hope as well that people from Dundee will use it as an everyday part of their city; that they will go there to enjoy the building with its surrounding public space and find a harmonious relationship between the museum, the riverside, the city and themselves."