Three-block scheme for south London's Winstanley Estate go in for planning
The first wave of HTA Design-led proposals to redevelop a south London estate have been lodged for planning with Wandsworth council.
RIBA president Ben Derbyshire's practice is the lead architect for Wandsworth and joint-venture partner Taylor Wimpey's regeneration plans for the Winstanley and York Road estates, immediately north of Clapham Junction station.
As a precursor to the area's wholescale regeneration, the design team – which also features Figureground Architects and Henley Halebrown – has submitted proposals for a 20-storey residential tower, a lower-rise housing block, and a six-storey community building earmarked to provide a permanent home for Thames Christian College and Battersea Chapel Baptist Church.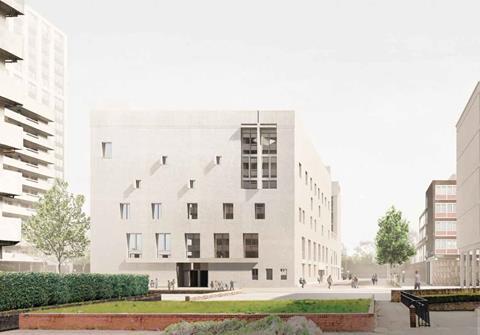 The buildings would be delivered on two separate sites at the southern end of the Winstanley Estate with a total area of 0.98 hectares.
The tower, designed by HTA, would provide 93 new homes and ground-floor commercial space at the junction of Grant Road and Winstanley Road. Nearby would be Henley Halebrown's school and church building and a new multi-use games area.
Figureground's lower-rise residential block, which will deliver 46 new homes, would be located on a site at the corner of Grant Road and Plough Road.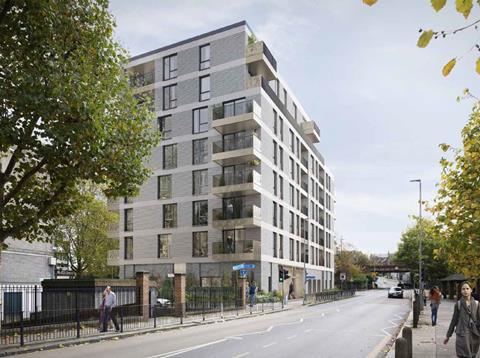 The design and access statement accompanying the application said the vision for the project was to "create a series of new buildings of outstanding quality, establishing the area as an accessible and attractive piece of city, well integrated into the surrounding local network of streets".
It continued: "The architecture and landscape design of these new spaces will balance the existing character of the Winstanley Estate while introducing a new contemporary architecture that will set a standard for the forthcoming wider regeneration of the surrounding area, which includes the anticipated regeneration of the neighbouring estate."
HTA's appointment to the project followed an earlier masterplanning exercise conducted by Levitt Bernstein, which was appointed by Wandsworth council in 2013 and briefed to create masterplan options for regenerating the Winstanley and York Road estates.
The current plans are open to consultation until February 1.