Weltmuseum Vienna delivers new exhibition space, auditorium, shop and café
Hoskins Architects' redevelopment of Vienna's Weltmusuem is welcoming its first wave of summer visitors since the completion of the £19.2m project – in collaboration with Ralph Appelbaum Associates.
The practices won an international competition to update the museum – housed in the historic Hofburg Palace – in 2013, and delivered a scheme with a contemporary multifunction "cube" in front of the main entrance, new reception and introductory spaces, café, shop and auditorium.
Hoskins said the design incorporated a "consistent architectural language" that was sensitive to the building's historic context and that the practice was very proud of the standard of results that had been realised.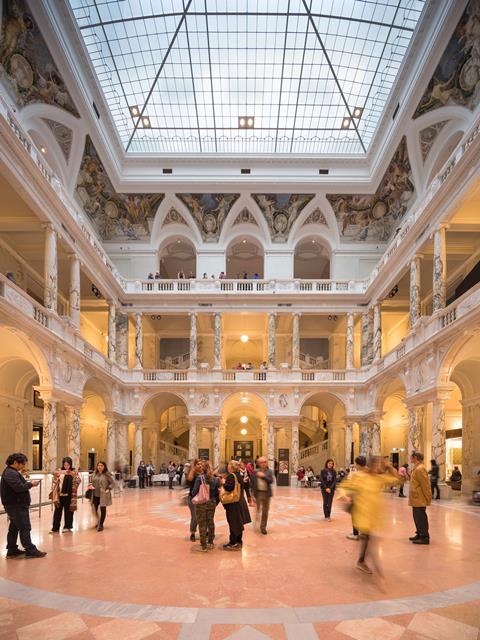 The museum grew out of the 14,000-strong artefact collection of archduke Franz Ferdinand and now numbers more than 250,000 items from non-European civilisations, dating back to the 16th century.
Thomas Bernatzky, director at Hoskins' Berlin, office said the practice constantly sought to think outside the box and change perspective for museum work.
"We consider the visitors and their needs, mentally undertaking their journey from their arrival, through the exhibition and beyond," he said.
"With historic buildings we take a step back and work hard to understand how the building was originally planned and used.
"We then use that knowledge to help make decisions and develop our ideas for the redesign. We believe this sincere interest in the building ultimately makes us credible."
Hoskins said the project cost of the redevelopment was €21.8m, which is £19.2m at today's exchange rates.