National Trust for Scotland project features nation's largest rabbit sculpture
Hoskins Architects has completed a visitor centre for a Garden of Playfulness at Brodie Castle in the Highlands of Scotland.
The 278sq m building adopts a form at odds with its intended use, according to the practice.
While it is the entry to a £2.8m fantastical visitor attraction at the castle, located between Elgin and Inverness, it was designed to evoke the form and materiality of an ancillary agricultural building in order to maintain the primacy of the existing estate buildings, which date back to the 16th century.
Hoskins won a competitive bid to create the pavilion for the National Trust for Scotland in 2016. It provides retail, catering and indoor play spaces for the castle's Garden of Playfulness.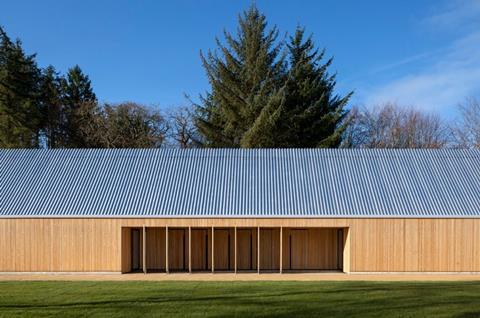 The garden was designed by landscape architects Erz and includes slides, tunnels, and an array of engaging, sculptural elements inspired by stories from the castle's past – including, according to the National Trust, Scotland's largest rabbit sculpture, at 6.5m tall.
Hoskins said its visitor centre design was intended for year-round use, and to support special events and exhibitions. It hosted a Mad Hatters of Moray event earlier this month, themed on characters from Lewis Carroll's children's classic Alice's Adventures in Wonderland.
Despite being white, the rabbit sculpture is not a nod to Carroll. Instead, the marble Jesmonite creation is a reference to Mary Chase's play "Harvey" a local performance of which starred Ninian Brodie, the 25th Brodie of Brodie, in 1960.