Hear views from architects, contractors and QSs on the Conservative government's school building plans and the impact of tight budgets on projects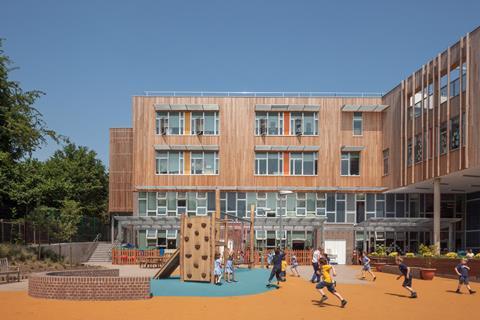 Building and BD, in association with Armstrong Ceilings, present this free-to-attend CPD accredited live audio webinar:

Date: Thurs 11 June 2015
Time: 11.00-12.00 BST
Featured Speakers: Sarah Richardson (Chair), Editor, Building magazine; Caroline Buckingham, Director and head of education, HLM; Marcus Fagent, Head of education and children's services, EC Harris, Stephen Beechey, Group strategy director and MD government affairs, Wates; Jeremy Sumeray, Senior Segment Manager, Sustainability, Armstrong World Industries
Building and BD would like to invite you to a live audio webinar, How will the new Conservative government meet demand for more school buildings?, in association with Armstrong Ceilings.
The Local Government Association has stated that England will need an extra 880,000 school places between now and 2023, while EC Harris says the capital cost of supplying new school places between 2015-2020 could hit £11bn. At the same time the RIBA suggests that £8.5bn is needed to repair existing schools. So how will the new Conservative government meet demand in the school sector over the next five years?
In this webinar we will consider:
How big is the gap between demand and supply in the school sector?

Can designers ensure quality and flexibility on tight budgets?
How can construction professionals make budgets go further as construction costs continue to rise?
Will scarce resources be diverted from repairing and improving existing schools?
Can the Priority School Building Programme deliver enough new schools?
What impact are other programmes such as "basic need" and "free schools" having on the numbers?
There will be a Q&A session during the debate when you can put your own design-related questions to Caroline Buckingham who has an impressive record on delivering school projects in her role at HLM.