Heat-damaged panels to be replaced
The fire that devastated the Mackintosh Building for a second time also damaged Steven Holl's 2014 extension across the road, it has emerged.
Intense heat from the blaze in June damaged some of the panels on the translucent rainscreen cladding on the Reid Building which houses the school of architecture, along with other uses.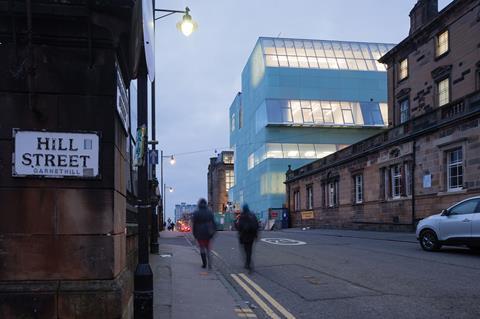 These will be removed at the same time as the ongoing work to stabilise the Mac, Glasgow School of Art said.
A spokeswoman said: "The rain shield isn't needed for the day-to-day operation of the Reid Building and the interior has not been damaged by the fire so we aim to bring the building back into operation as soon as possible after Glasgow council lifts the security cordon round the site of the fire."
She said work to fit the replacement panels would be scheduled to fit with the academic needs of the Reid Building.
Meanwhile stabilisation work is now underway on three sides of the Mackintosh Building, with the focus on the east gable and the south façade above Sauchiehall Street.
Two cranes and two mobile elevated platforms were on site enabling work to be undertaken at a high level on the east gable, south façade and north façade.
On the east gable, remedial steel restraint strapping was installed to allow removal of the scaffolding. It will be replaced by shoring scaffolding.