Fire rips through grade A-listed Glasgow School of Art - as restoration work neared completion after 2014 blaze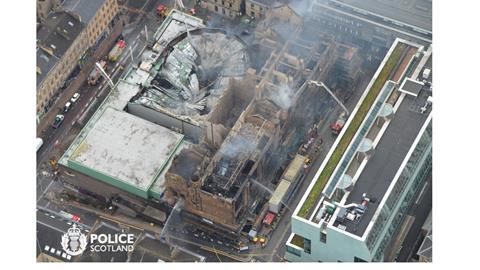 A devastating fire is feared to have virtually destroyed Glasgow's celebrated Mackintosh School.
The blaze, which broke out just before midnight on Friday night, has caused much more extensive damage than the fire four years ago which destroyed the library.
Aerial images show that virtually the entire building has been severely damaged, along with the neighbouring O2 ABC venue.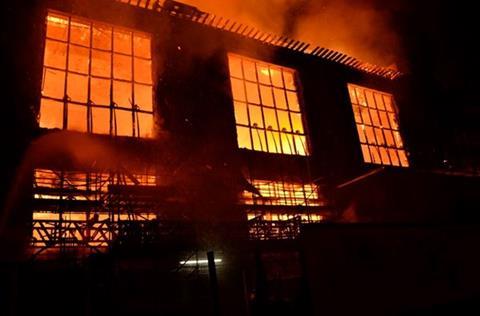 Painstaking restoration work by Page / Park after the previous fire in 2014 was nearing completion, with students due to move back in next year. This year the city has been celebrating the architect's 150th anniversary.
That fire was caused when expanding foam used for a student project caught light in the basement. It is too early to say what caused yesterday's fire which spread to neighbouring buildings.
Firefighters are still at the scene. At the height of the blaze more than 120 firefighters and 20 fire engines were tackling what they described as "a significant fire" and an "extremely challenging and complex incident".
There were no reported casualties. Nearby properties were evacuated as a precaution.
Deputy Chief Officer Iain Bushell, the officer in charge at the scene, said: "This is an extremely challenging and complex incident, but the response and professionalism of our firefighters has been exceptional.
"The fire has taken hold several properties including the 02 ABC nightclub causing extensive damage.
"This will be a prolonged incident and crews will remain on the scene as they work to prevent further fire spread and damage.
"We would urge the occupants of surrounding buildings to remain indoors and keep their windows closed."