Contractor answers questions about how grade A building was protected
The Mackintosh Building had a contract in place for 24-hour, seven-day-a-week security and fire warden patrols when it caught fire, the contractor has confirmed.
There was also a smoke and heat detection system in place, it said.
A team of three was paid by Kier to safeguard the building but the contractor has not yet been able to confirm to BD whether a warden was actually on site at the time the fire broke out.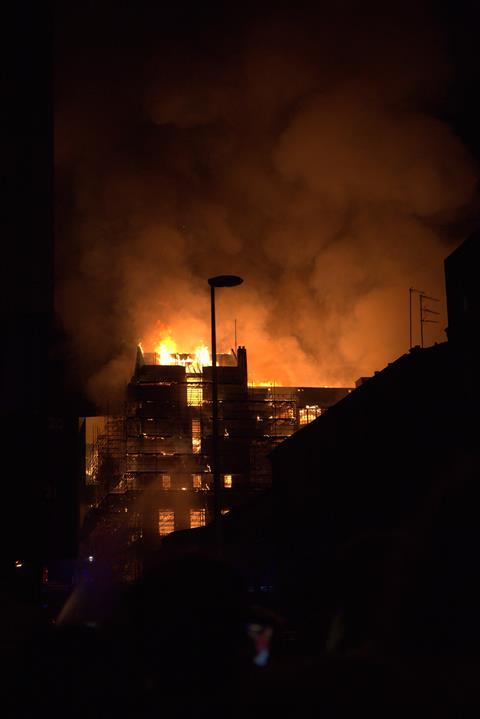 The alarm was reportedly raised just before midnight on Friday by a passing policeman.
Three days later the fire brigade was still on the scene extinguishing the final pockets of fire at the 1909 Charles Rennie Mackintosh masterpiece.
Kier Construction Scotland was carrying out the restoration of the grade A-listed building with Page/Park, the architect appointed after the Mac's previous fire.
The contractor was responsible for "day-to-day management" of the site which Glasgow School of Art said in a statement was not part of its operational estate during the four-year project.
Kier issued a statement saying: "An agreed fire safety strategy was implemented for the build phase of the Mackintosh restoration project, which combined measures for the protection of all those entering the site to work and to alert the authorities in the event of an outbreak of fire.
"These included a smoke and heat detection system and regular evacuation tests as well as 24-hour, seven-days-a-week security and fire warden patrols by a team of three guards, originally appointed by the client after the 2014 fire and subsequently by Kier.
"We continue to work with and support Scottish Fire and Rescue Service and our client as they determine the next steps for the Mackintosh building and site.
"We have a passionate team of local construction and crafts people, skilled conservators, supply chain and engineering specialists who have worked incredibly hard on this iconic landmark, and together we are all keen to do whatever we can to help moving forward."
Scottish culture secretary Fiona Hyslop, higher education minister Shirley-Anne Somerville, and Alex Paterson, chief executive of Historic Environment Scotland (HES), met with the leaders of Glasgow School of Art yesterday afternoon to discuss the immediate response to the fire.
Hyslop said she had offered "full support from across the Scottish Government in the period ahead" and expressed her personal sympathy.
She said: "A multi-agency group of conservation experts has been established to advise on short- and longer-term issues. This group, which includes HES, will continue to play a vital role in the weeks and months to come.
"We are at a very early stage, with the Scottish Fire and Rescue Service still working at the scene. Once a detailed assessment has taken place we will be able to assess any structural, engineering or other work required.
"However, The Scottish Government and our partners will remain in close contact with the Glasgow School of Art."
Tom Inns, director of the GSA, has said the school's immediate priority was continuity for students and staff, making sure more than 400 post-graduates and 1,500 open studio students can continue their studies, and planning for the 2018/19 academic year "in what is clearly a challenging environment".