Alan Dunlop calls for design contest for entirely new building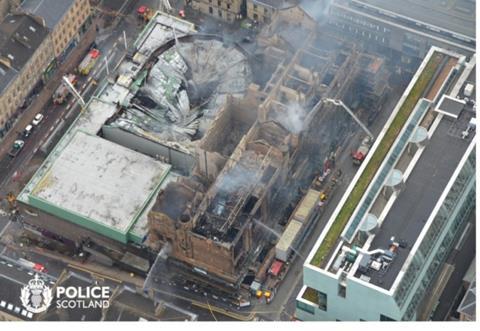 The Mackintosh building should not be rebuilt, Glasgow architect Alan Dunlop has urged.
Instead a design competition should be held, and Scottish architects should not be mere "tokens" on the shortlist, he said.
"The whole thing is devastating but we have to accept the original Mackintosh building has gone," he said.
Nothing was left of the interior, he said, and the stone facade appeared to have been severely damaged by the combination of fire and "millions of gallons of water pumped from the Clyde" by firefighters.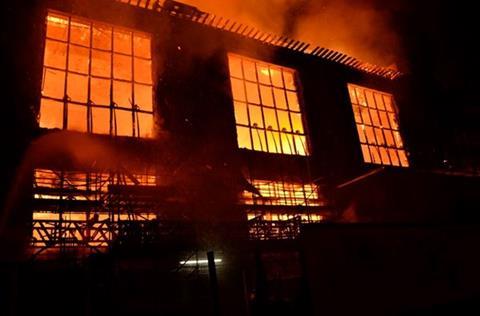 "There are calls saying we should restore it but it's not a restoration job. There's nothing left to restore. It would be replication and while there's a debate to be had over that, my view is that replication is something they do in China, not here.
"It's irreparable and can't be brought back into life. Mackintosh was an innovator not a copyist and if he was around today he wouldn't be rebuilding it, he would be building a new school."
Dunlop, who studied at Glasgow School of Art, acknowledged that the detailed digital picture created after the 2014 fire meant it could be rebuilt. But he said it would be sterile without the years of student activity that had created a palpable presence in the original building.
"There should be a design competition for a new building and I would like to think a Scottish architect would be seriously in the running, not there to make up the numbers," he said.
"All the major public buildings in Scotland have been built by architects other than Scots," he said, citing Steven Holl's building opposite the Mac, Zaha Hadid's transport museum and Kengo Kuma's V&A Dundee.
"I know there's a currency in getting starchitects in to build a building but I would like to think we have enough talent here in Scotland.
"Mackintosh was in his late 20s when he did the first element of design for the Mac and there are young architects capable of producing something just as outstanding."