Fire chief warns probe will complex and time-consuming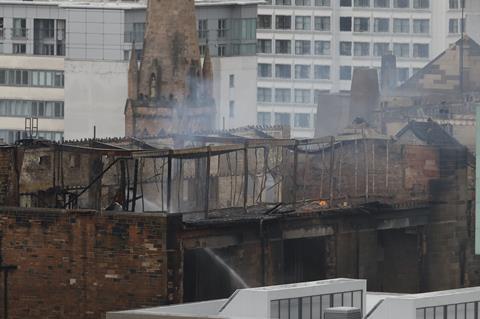 The investigation into how a second fire was able to sweep through Glasgow School of Art's Mackintosh building has begun.
The Scottish Fire and Rescue Service has started collecting evidence from the scene, but warned it would be a complex job that would take time.
Fire investigators said they would work closely with the police as they seek to establish the exact sequence of events.
Assistant Chief Officer David McGown of the Scottish Fire and Rescue Service acknowledged people were desperate for information but cautioned that patience was required.
There are still pockets of fire today, 72 hours after the blaze took hold, and fire crews remain at the building working to extinguish them. At the height of the disaster 120 firefighters and 20 engines were at the scene in Garnethill.
McGown paid tribute to his crews' "outstanding professionalism". He said the importance of the building was at the forefront of their minds throughout.
"Our fire investigation team has started gathering information and, working alongside our police partners, will look at various sources of information to establish exactly what has happened here," he added in a statement issued on Monday lunchtime.
"However, I would like to stress that this is a very complex process and will take time.
"It is of vital importance that we ensure the full facts and circumstances of this incident are clearly established.
"Our fire investigations team are specialists in their own field. They will look at every aspect of this incident – including the cause of the fire, how it spread and what safety measures were in place.
"We understand the need for clarity here and why so many want to know how this happened, but I would again like to reiterate that we need to establish the full facts and circumstances of this incident – and this will take time."
The Scottish culture secretary Fiona Hyslop said on BBC television when asked about the possibility of a public inquiry: "I understand people want a lot of questions answered but clearly we have to have the fire investigation first and we have to give them the time to carry out their very responsible duties to best effect."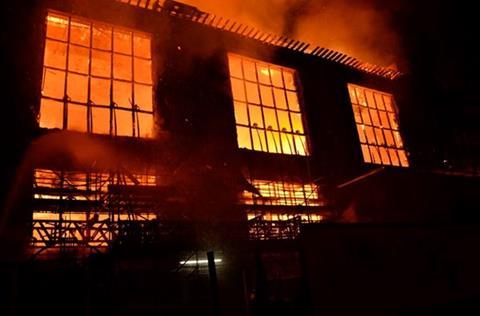 The Glasgow School of Art has issued a statement saying the "day-to-day management of the site under the control of main contractor Kier Construction Scotland and was not part of our operational estate".
It also said today was the first time staff had been able to access the school's adjoining buildings. "The process of assessing them is now underway," it said. "We have also had visible sight of the Mackintosh Building. The entire site remains under the control of Scottish Fire and Rescue Service who we have been liaising closely with since the fire broke out."
Kier has issued a statement saying: "Kier has been working with the Glasgow School of Art since 2016 on the restoration of the Mackintosh building and so we share the devastation felt by the School and the wider public at this time.
"We are working closely with the Scottish Fire and Rescue Service in their investigation and as such it would be inappropriate to comment further whilst an investigation is ongoing."
After the first fire in 2014 it emerged that the school had been about to be fitted with a "fire suppression system", though this would not have included sprinklers because of the risk water posed to the building.
After this weekend's fire the British Automatic Fire Sprinkler Association (BAFSA) issued a statement saying: "As the building was still undergoing refurbishment, it is understood that automatic fire sprinklers had not yet been fully fitted. However, it should be realised that sprinklers can be fitted in buildings throughout construction on a temporary basis, as there is a considerable risk from fire during this period."
However this is an uncommon step. Sprinklers have not been installed at the restoration work at the Elizabeth Tower which, as home to Big Ben, is one of the nation's most important historic buildings.