Practice's plans for new building on different site at heart of £1.75bn regeneration drive
Gort Scott Architects-penned proposals for a new HQ for the London Borough of Harrow have secured planning permission, the practice has announced.
Gort Scott led a team including Allies & Morrison and We Made That which won a design competition for the project in 2016. The trio beat a field of rivals that included Metropolitan Workshop, Haworth Tompkins and Mae; Henley Halebrown; and Karakusevic Carson with Tony Fretton Architects.
The approved proposals will see the development of a new 9,362 sq m building of up to six storeys with council offices, a civic centre and community space on the site of Peel House Car park in Wealdstone, around half a mile north of Harrow's "outdated and costly" current HQ in Station Road.
Gort Scott said the new council HQ was the centrepiece of a decade-long £1.75 bn council-led regeneration strategy to bolster the local economy by generating jobs, building around 6,500 homes, encouraging community activity and providing safe, pleasant streets and spaces.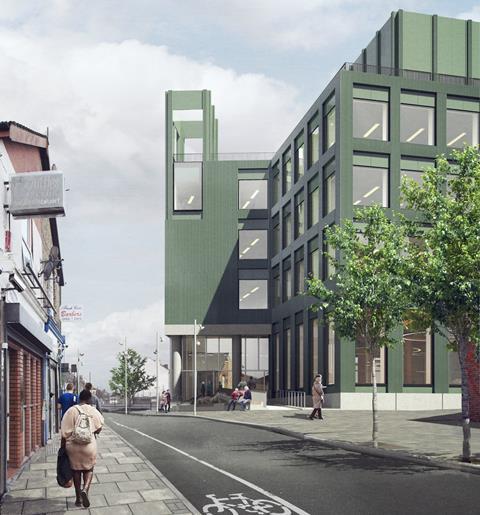 Members of Harrow's planning committee resolved to grant planning permission to the proposals in March. The practice's announcement follows London Mayor Sadiq Khan's decision not to call in the proposals.
Harrow's head of regeneration and design Tobias Goevert said having Gort Scott working with Allies & Morrison on the project was a cause of excitement in the borough, and that the design team had brought "energy, enthusiasm and realistic optimism" to the project.
"It's challenging to make such a scheme work so efficiently on a tight site, with a tighter budget, and keep quality high – we are excited to see our new centre evolve," he said.
Gort Scott director Jay Gort said Harrow Civic Centre was the practice's biggest single building commission to date.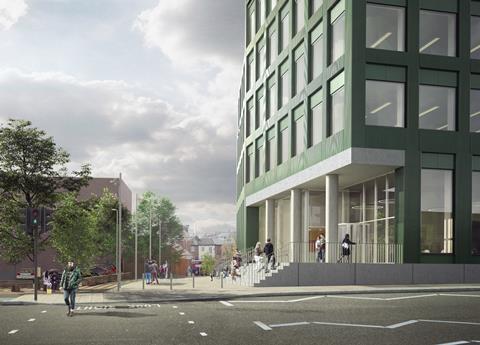 "From the competition onwards, we considered how the building can reinforce and add depth to Wealdstone High Street whilst also providing a befitting point of discontinuity in the streetscape," he said.
"Public engagement has been a very important part of the design process and will continue to be so as we move towards refining the design for construction."
Allies & Morrison associate George Bister said the project had been particularly rewarding as a new model for civic buildings. She said, "We are hopeful that the result will be thoughtful and well-rounded, a building that is robust and responsive, dynamic and adaptable."
Last year Harrow set up a 50-strong design panel to boost the quality of new build in the borough in a move it said had been inspired by the civic centre design competition.
The local authority has previously set a target of completing the new civic centre by 2020.