Blocks are practice's first project in Lebanon
Foster & Partners has showcased its limestone-clad development of high-end apartments in Beirut, Lebanon.
The development, named 3Beirut, features blocks of 18-32 storeys in the heart of the city's central district.
The scheme's north façade provides views to the Mediterranean city's harbour, while its southern elevation steps down in height, with terraces and green roofs that help integrate the towers into the urban grain.
Fosters said the staggered layout of the towers also helped avoid apartments overlooking adjacent units, allowing residents a greater sense of privacy.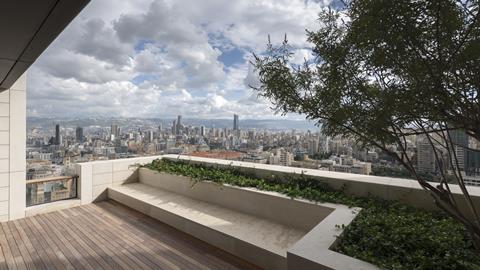 Shops, cafes, restaurants, a fitness centre, an art gallery and public gardens are provided at the scheme's lower levels, along with new green spaces and water features.
Luke Fox, head of studio and senior executive partner at Fosters, said the development was "a high-quality building that gives back to the city".
A showroom for the high-performance car brand McLaren is among the outlets now open at 3Beirut.