Reports claim 'ultra-transparent' glass is foxing workers at Calilfornia headquarters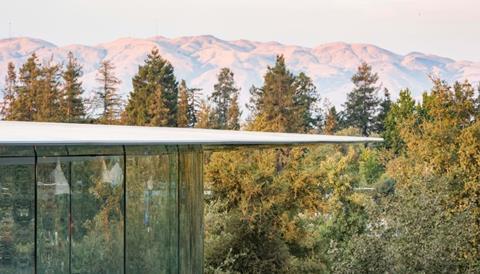 Staff at Foster & Partners' £3.6bn Apple Park headquarters in California have been injured after walking into glass walls at the building, according to reports.
The four-storey glass and metal building at Cupertino, near San Francisco, was designed to house around 12,000 employees of the technology giant and opened its doors in April last year.
But a report in the Guardian claims accidents at the circular building, which uses specially treated curved glass "to achieve an exact level of transparency and whiteness", followed warnings from a building inspector that staff would not be able to tell the difference between walls and doors.
It said the San Francisco Chronicle had discovered that emergency services' records revealed that "at least three" Apple employees "walked or ran into the ultra-transparent glass hard enough to require emergency medical treatment during the first month of occupation" for the building.
The report added that news company Bloomberg – whose European headquarters were also designed by Foster – had reported staff at Apple Park resorted to "sticking yellow sticky notes on the glass doors" to stop themselves from walking into glass walls by mistake.
BD asked Foster & Partners for a response to the reports, but had not received one at the time of publication.