City of London scheme lands Breeam 'outstanding'
Foster & Partners' new European headquarters for media giant Bloomberg has been awarded a sustainability rating that its owner and designer say makes it the world's greenest office building.
The firms said the hub, which occupies a 1.3 hectare site near St Paul's Cathedral, scored 98.5% on the Breeam sustainability assessment method, giving it an "outstanding" rating and notching up the highest design-stage score ever achieved by a major office development.
The 102,000sq m building features bespoke integrated ceiling panels that combine heating, cooling and lighting; a water-conservation system that makes zero net use of mains water for flushing; natural ventilation; a smart airflow system that reduces CO2 emissions by adjusting airflow according to the number of people in the building; and a combined heat and power plant.
Norman Foster said sustainability was a key focus from the earliest client meetings about the building, which is 10 storeys tall and will be home to 4,000 staff.
"In some of our first discussions on the project, Mike Bloomberg and I arrived at a 'meeting of minds' on how the design of the new Bloomberg headquarters should incorporate the highest standards of sustainability," he said.
"The project evolved from thereon into a building that is one of the most sustainable in the world.
"The deep plan interior spaces are naturally ventilated through a 'breathing' façade while a top-lit atrium edged with a spiralling ramp at the heart of the building ensures a connected, healthy and creative environment."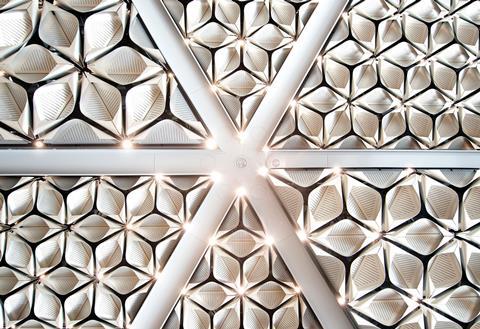 The headquarters occupies a site between Queen Victoria Street and Cannon Street in the City of London, formerly occupied by post-war office block Bucklersbury House.
Foster's design restores the ancient thoroughfare of Watling Street through the site, linking two separate buildings with bridges. It also includes a home for the rebuilt Roman Temple of Mithras which was moved from the site after its discovery in the 1950s.
Alan Yates, technical director of BRE Global's sustainability group, said the Bloomberg building had a relentless focus on innovation and a "holistic, integrated approach" to sustainable construction and design.
"Projects like these are really important in giving confidence to the industry to experiment," he said.