Starchitect salutes 'inherent playfulness' of 'maverick idealist' Stirling Prize-winner
Norman Foster has paid a personal and highly complimentary tribute to Stirling Prize-winner Will Alsop, who died at the weekend after a short illness.
Foster said Alsop was a "truly unique individual" who "always sought to break free from the norm" and whose larger-than-life personality was reflected in the "exuberant and inimitable style of his buildings".
More than a decade his senior, Foster said Alsop's skills as a gifted designer had shone through at an early stage, when he had been shortlisted as runner up in the competition to design the Centre Pompidou in Paris as an Architectural Association student.
"The undulating ground plane of the scheme echoed an inherent playfulness that would go on to become the hallmark of his work," he said.
"Will was always an optimist, forever believing in the intrinsic power of architecture to 'deal in joy and delight'.
"His attempts to make his buildings 'float' were borne out of a deep sense of civic responsibility, to give the ground over the buildings and gardens in an effort to make the cities he worked in happier places to be.
"The exceptional Peckham Library and the equally distinctive Ontario College of Art and Design remain the most successful illustrations of his philosophy."
Foster said he had been delighted when Alsop, who was 70 when he died, set up a studio in Battersea because it had contributed to the creative and social energy in the area.
"A maverick and idealist, Will Alsop added colour and diversity to the British architectural scene throughout his career, and will continue to be an inspiration for young architects for generations to come," Foster concluded.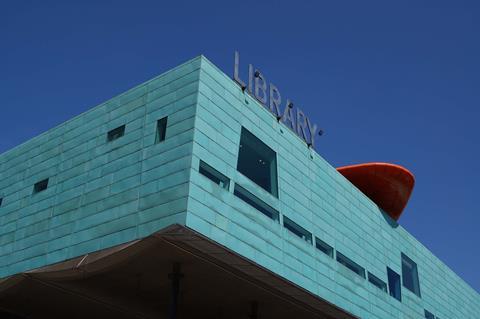 Alsop left school at 16 and was apprenticed to an architect before studying at the AA. He went on to found six practices over 40 years, the last of which was aLL. Alsop won the Stirling Prize in 2000 for Peckham Library but was as well known for what went unrealised as for his built work.
He proposed turning Barnsley into an Italian hill village and joining towns across the country into regional "supercities". His design for Liverpool's Fourth Grace was an extraordinary glass cloud on stilts dubbed the "diamond knuckleduster" which was canned by the council in 2004.
But he worked around the world, in China and Canada, as well as in the UK where other buildings include North Greenwich Tube station, part of the celebrated Jubilee Line extension, and the controversial The Public art gallery in West Bromwich.
Never afraid to ruffle feathers, Alsop dubbed the work of David Chipperfield "depressing" at a V&A public debate in 2013, going on to lambast Allies & Morrison for championing "calmness, boredom, conformity, uniformity".
At the same event Alsop labelled Norman Foster "grey".