AOC-designed unit set to be followed by HTA house
The first of a series of 54 custom-build homes earmarked for a government-backed pilot site in Cornwall has cleared a major planning hurdle as the scheme's first phase progresses.
An end-terrace version of the AOC Architecture-designed "Little Big House" was granted reserved matters planning consent for a site at the Heartlands development at Pool, near Redruth, after marketing of the development commenced in the spring.
The site, on the edge of part of the Cornwall and West Devon Mining Landscape UNESCO World Heritage Site, is being developed by a joint venture between regeneration specialist Igloo and construction firm Carillion.
Prospective homeowners are offered the opportunity to purchase a bespoke home by choosing from six core designs by different firms, that can be customised to suit budgets and space requirements.
In addition to the AOC house, there are versions of a home designed by Riba president-elect Ben Derbyshire's HTA Design practice for construction firm Potton; Ash Sakula Architects' "Lightbox House"; Mae's "MyHouse"; a Dwelle property; and straw-insulated BaleHaus options by White Design.
The seven plots on Heartlands' first phase are priced at £49,500 for mid-terrace homes and £52,000 for end terraces. The house models that can be built on them start from £150,000, depending on design.
Under the Heartlands model, homebuyers pick a plot they would like to build their home on, then chose one of the six house designs – all of which can fit on each available plot, and which include two-, three-, and four-bedroom options.
The three-storey, 135 sq m Little Big House granted reserved matters consent by Cornwall Council is expected to start on-site in the autumn. Its layout as submitted for plannning, features three bedrooms, a very large first-floor landing that can be separated to provide an additional room, and a terrace.
One of the HTA-designed Potton homes – a three-storey option with a roof terrace – has also been reserved, as has a second AOC house, but the proposals have yet to be submitted for reserved-matters approval.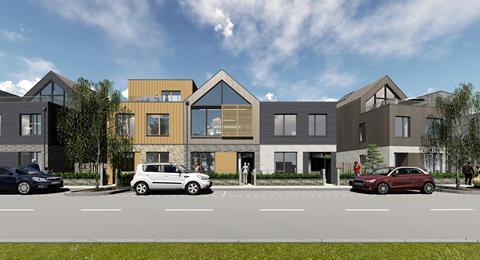 Igloo told BD that it was in talks with buyers for all of the remaining first-phase plots.
Chief executive Chris Brown said initial learnings from the pilot indicated that control over room sizes, layout and sustainability were capturing most interest among buyers.
"The first customers seem to be enjoying the process of getting their dream home without the hassle and are really helping us to optimise the offer," he said.
He added that the ability to customise and upscale their initial choices did not appear to be pushing customers to up their budgets to secure more expensive, higher-specification versions of their initial choices.
"They are behaving very rationally, taking the attitude of 'that's my budget, what's the best I can get for it?'" he said.
Brown added that the development team was looking to tweak several aspects of the offer for future phases, in particular the way the level of choice on offer could be communicated via online estate agents.
In addition to designing one of the core housing options, HTA Design also masterplanned the wider heartlands development, which includes a total of 144 houses and apartments.
Paul Maddock, senior associate at the practice, said there was more to be said on the design and masterplanning process for the development, particularly as the government had expressed "sizeable" ambitions to increase custom-build levels across the nation to boost housing supply.
"How this sector grows is reliant on local authorities having the appetite to collaborate with architects to develop site-specific parameters and coding, which go on to inform the customers' plot passports," he said.
"Heartlands is the government's pilot for custom build and as such has a strong role also in promoting custom-build registers as a demand-led housing choice for the wider public."
AOC director Geoff Shearcroft said he believed that the model being trialled at Heartlands offered customers access to good design tailored to their requirements for a price that was comparable to non-bespoke homes on the local market.
"Is it the cheapest way to build housing? Not yet," he said. "But it does bring better and more individually tailored designs within range of more people.
"The challenge is designing a model that balances affordability with adaptability."
He added that speeding up the delivery of custom build projects would be dependent on the availability of improved financing models for custom build customers.