Practice pips Eric Parry, Haworth Tompkins and Stanton Williams for Green Templeton College expansion
Feilden Fowles has won a competition to design the expansion of Oxford University's newest graduate college, beating six longer-established firms in the process.
The practice – BD's Young Architect of the Year in 2016 – will work up proposals for a modern addition to Green Templeton College, which has the grade I-listed Radcliffe Observatory on its campus.
Feilden Fowles was picked ahead of Eric Parry, Haworth Tompkins, Sergison Bates, Stanton Williams, Tim Ronalds and Walters & Cohen for the job, which will deliver new en-suite postgraduate accommodation, offices and communal study space.
Practice director Edmund Fowles said the firm had recognised that Green Templeton differed from Oxford University's older campuses in that it had more of the character of a country house estate than formal quadrangles.
"The college campus has many of the qualities of the picturesque, comprising a sequence of interconnecting and yet irregular quads and gardens, presenting a series of revelations; an unfolding drama of spaces as one moves through the campus," he said.
"Our approach was simply to imagine a continuation of this walk through the college, to discover three more outdoor rooms or 'hortus conclusus' that offer a combination of more civic and collective functions, but also quieter, more reflective spaces."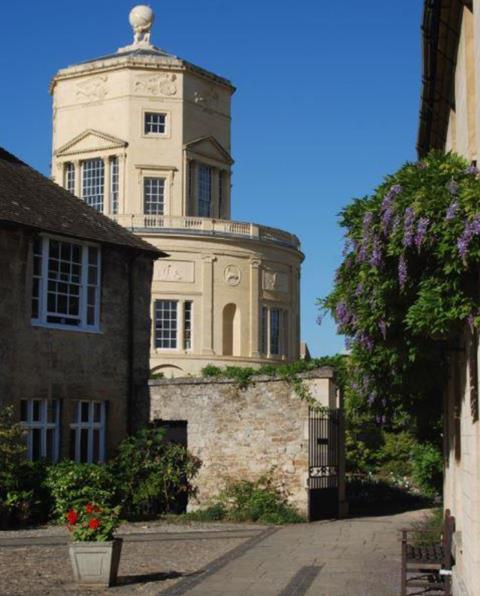 The practice said it had envisaged a "loose fitting building" for the project site, that would be led by the character of the landscape and its history as an 18th-century walled kitchen garden.
Expected to be complete in 2021, the building is Feilden Fowles' second major university competition win following its appointment to design a dining hall for Cambridge University's Homerton College earlier this year.
Over the summer, Green Templeton College said the new building would be the first in a number of developments following the creation of a masterplan by Long & Kentish Architects.
The college was created by the 2008 merger of Green College and Templeton College. It specialises in subjects relating to human welfare and social, economic and environmental well-being, including medical sciences, management and social sciences.