Controversial 37-storey tower reaches full height 12 years after winning consent
The tallest tower in Terry Farrell's controversial £1bn Chelsea Waterfront development has topped out, more than decade after it was granted planning permission at secretary-of-state level.
Farrells began masterplanning the redevelopment of the Lots Road Power Station site for Hong Kong developer Hutchison Whampoa in 1996 – six years before the 1904 building, once one of London's largest steel-framed structures, was decommissioned.
Its final proposals involved converting the red-brick power station for residential use and introducing a 37-storey tower, a 25-storey tower and several lower-rise blocks on the 4.6ha site, which straddles the boroughs of Kensington & Chelsea and Hammersmith & Fulham. The scheme will eventually deliver more than 700 homes.
Kensington & Chelsea – as well as local residents – opposed aspects of the scheme, but then deputy prime minister John Prescott granted it consent in 2006, following a public inquiry. The project finallly broke ground in 2013 following further delays prompted by the 2008-9 financial crisis and preparatory work for the Thames Tideway Tunnel.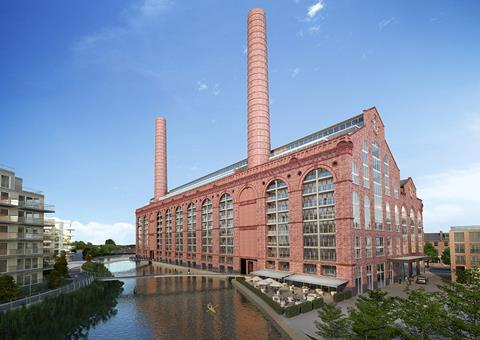 Formation Architects is behind the 260-home conversion of the former power station, which used to provide electricity for London Underground. New-build elements by Farrells include nine new buildings, two squares, a riverside footpath and three bridges connecting the banks of Chelsea Creek.
Announcing that the 37-storey tower topped out, Farrells conceded that the project, next to Chelsea Harbour, was one of its "longest-running" projects.
"Cladding to the first tower nears completion, as it passes level 32, with the bulk of balconies now installed," it said. "The first units on the lower levels are complete and internal works progressing rapidly throughout the rest of the tower.
"In the low-rise buildings, the final units are approaching completion with the majority now handed over, and the first units occupied."
It said that phase one work on the Hammersmith & Fulham side – where the 37-storey tower is sited – was on course to complete in summer 2019.
Formation Architects is targeting completion in 2024 for the power station itself.