City planners approve 656-home scheme for developer Vinco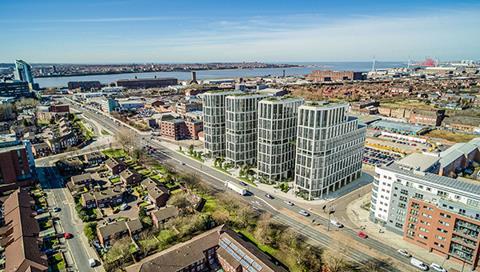 Liverpool city council has approved Falconer Chester Hall-designed proposals for a 656-unit residential scheme on the edge of the city centre.
Located on Leeds Street, the "Freemasons" scheme will consist of four separate residential towers rising up to 16 storeys and providing a mix of one and two-bedroom apartments, studios, and three-storey townhouses.
Developer Vinco Group said it hoped to start on site later this year on the scheme, which features a ninth-floor communal garden and ground-floor commercial space, a gym and business centre. The scheme will also have 92 car parking spaces and 248 spaces for bikes.
Last month, the Liverpool-based practice won planning for four major developments in the city at a single planning committee session. The biggest was for a 15-storey mixed-use scheme on the city's Chaloner Street.
The Unesco World Heritage Committee is currently holding its annual gathering and one of the resolutions proposed at the meeting in Krakow, Poland, will be to maintain Liverpool's "World Heritage in Danger" status for the time being – but consider revoking the heritage seal next year.
The group has said the city could lose its Unesco World Heritage Site status if the redevelopment boom in view of the city's waterfront is not reined in.