RMJM's controversial Lakhta Centre peaks in St Petersburg
The developers of an 87-storey skyscraper in the Russian city of St Petersburg have confirmed that the controversial building has reached its full height.
Designed by RMJM's Tony Kettle – who subsequently founded Kettle Collective with Colin Bone, the Lakhta Center prompted riots on the streets and opposition from global heritage guardian Unesco when it was first propsed by state gas company Gazprom.
The five-sided tower, which spirals through 90 degrees to reach its peak 462 metres above ground, was originally designed to be located in the centre of St Petersburg, a move which prompted strong protests from Unesco. In 2011 Gazprom announced an alternative site, outside of the historic city centre, had been identified for the tower.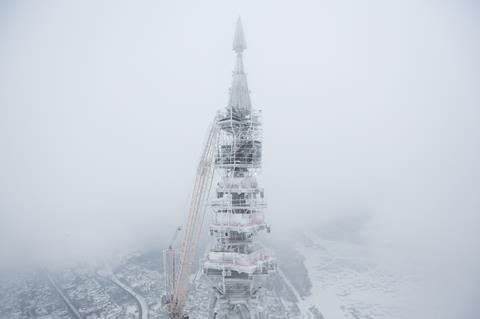 Russian practice Gorproyekt subsequently replaced RMJM on the project.
Announcing the building's topping out, Lakhta Center director general Elena Ilyukhina said the tower had now "become a full-fledged part of the marine façade of the northern capital and a new symbol of the city".
"We expect that the entire complex construction will be completed on schedule, namely by the end of 2018," she said.
The skyscraper and the centre's lower-rise elements will deliver a total floor area of 400,000 sq m.