Practice pips Knox Bhavan, Architype, Delvendahl Martin and vPPR to grab Forest Gate scheme
Duggan Morris Architects has won a RIBA competition to design a "co-living" scheme in east London that targets the delivery of low-rent studio space with "generous" communal facilities.
The practice beat four other shortlisted firms for the Bedü development, earmarked for the Forest Gate neighbourhood. They are: Architype, Delvendahl Martin Architects, Knox Bhavan Architects, and vPPR Architects.
According to the Bedü website, the scheme envisages a development of self-contained studio apartments of around 19 sq m each, and which include en-suite showers, toilets, and a kitchenette. Communal space would include additional kitchens, guest accommodation, workspace, and possibly a café.
RIBA competition adviser Hugh Broughton said the Duggan Morris proposals had won through because of their "flexibility, durability and the quality of the communal environment" – designed around a spacious and well-proportioned central courtyard.
"Co-living provides an innovative way to create homes, which are affordable and promote a strong sense of community," he said.
"The brief has yielded some truly imaginative designs from all the competitors, which are also sensitive to their urban setting."
However he said Duggan Morris had showed "great commitment to the cause of co-living" and "obvious drive" for realising the Bedü project.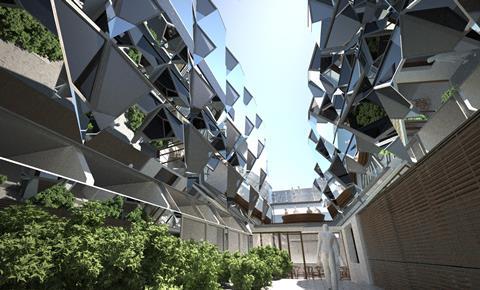 Duggan Morris founding director Joe Morris said the practice was "very excited" with the win.
"We view co-living as a 'common house', where the shared spaces should be of a far higher quality than what could be afforded by oneself," he said.
"With co-living still in its infancy in Britain, Duggan Morris Architects are thrilled to be a part of this new type of housing that could help combat the isolation many people feel in their cities today, providing a supportive and distinct community structure."
The practice will now work up a planning application for the scheme.