Project 'won't challenge' Caruso St John scheme - but adds second entrance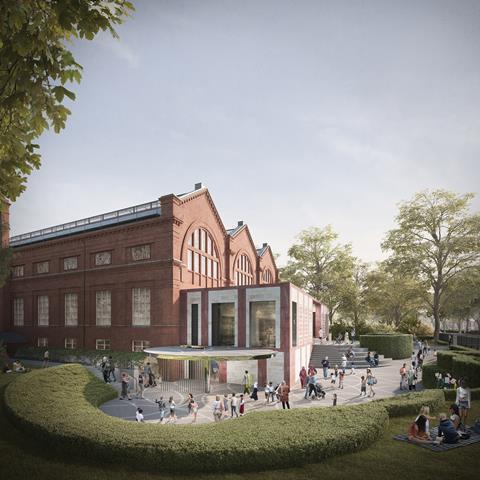 De Matos Ryan has won the £13.5m job of transforming the V&A's Museum of Childhood in Bethnal Green.
The architect beat an undisclosed shortlist to land what director Angus Morrogh-Ryan described as its most prestigious job yet.
The project is much larger in scope than Caruso St John's celebrated 2006 scheme which focused on the lower floors and added the distinctive entrance hall.
Morrogh-Ryan said they would be "working with" that project. "We don't want to challenge that, necessarily," he added. "It's not about removing additions but how we can constructively take it forward."
The museum's brief for the new project – for which it has yet to secure funding – is to open up and modernise the grade II* Victorian galleries. This will include removing paint from the central glass roof so the central "nave" is again filled with light.
The winning design also proposed adding a second, "equal", entrance beneath, and just to the north of, the Caruso St John door. This will give access directly into the basement area where families can use cloakrooms and a buggy park before entering the galleries.
Another key feature is a spiral staircase to the upper galleries positioned at the far end of the nave, creating a focal point as people arrive and making circulation more intuitive. Dubbed the kaleidoscope, it may be covered in mirrors and lenses inspired by the museum's collection of optical toys such as zoetropes. Previous ideas for this feature – developed in a co-design process with local schoolchildren and stakeholders – included a helter skelter slide.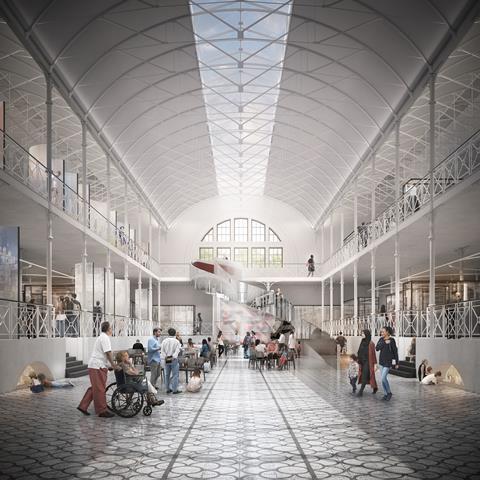 Only 7% of the museum's collection is currently on show, with much of the rest stored in the basement. Once the V&A's new archive opens at the Olympic Park's Here East – a project won by Diller Scofidio & Renfro with Austin-Smith Lord – most of the objects will go on public display there. This will free up the generously proportioned basement to become offices, a conservation and handling area, studios and a learning centre, some of them spilling on to the museum's south lawn. Crescent windows along the side of the nave will give glimpses into this area.
V&A director Tristram Hunt said the project would preserve and reinterpret an "icon of East End creativity", improving visitor experience and bringing a new sense of energy.
He said: "De Matos Ryan was selected for its outstanding experience of co-design with children to deliver world-class heritage projects."
More than 20 co-design workshops with local schoolchildren, teachers, families and curators have got the design to the start of RIBA stage 3, said director Jose De Matos.
A further 20 workshops are planned before January as the detailed design is developed. This will include decisions on how to display objects in a more immersive way than the current glass cases, while protecting them from curious hands, said the museum's director, Rhian Harris. Ultimately the museum hopes to put 15% of its collection on display at Bethnal Green.
No formal timeline has been announced but Hunt said the museum would reopen in time for its 150th anniversary in 2022 – the year Theresa May has proposed for a new Festival of Britain.
Morrogh-Ryan said the project would build on the practice's recent work at the York Theatre Royal, British Library and York Mansion House.
He said he and De Matos made a deliberate decision when they turned 40 about six years ago to start targeting larger, more complicated civic and cultural projects than the retail and bar work they had previously been known for.
"It's hard work because there's so much paperwork with Ojeu and invitations to tender," he added.
Philippa Simpson, acting director of design at the V&A, said: "We had an overwhelming response to the competition for basebuild design of the transformed Museum of Childhood, and an exceptionally strong shortlist.
"The panel, though, were unanimous in their selection of DMR based not only on their strong vision and sense of purpose for the institution, but also on their rich experience of working with users, and their sensitivity to the very particular needs of the museum as a crucial civic space within the local community, an important national resource and a global leader in unlocking the world of art and design for children and young people."