'I'm not sure it will ever be built'
Croydon's planning director has questioned whether One Lansdowne, which would be Britain's second-tallest tower, will ever be built.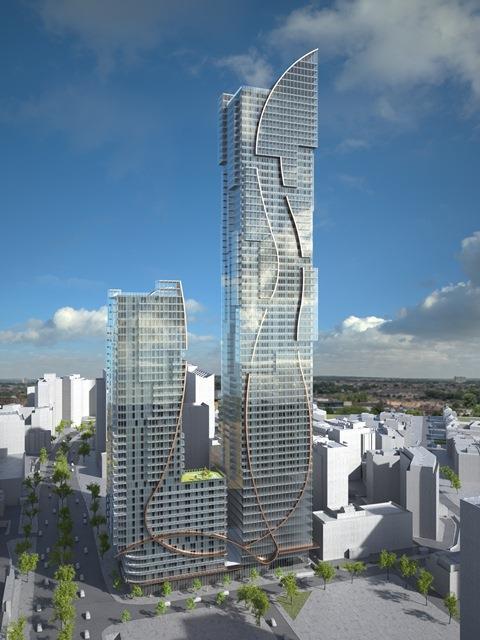 The project, designed by Piers Gough of CZWG, won planning last autumn amid much fanfare, but work has not yet started on site.
The scheme (pictured) involves 794 flats and 30,000sq m of commercial space in two towers of 38 and 69 storeys, which, at 236m, would be the country's second tallest building after the Shard.
Heather Cheesbrough, Croydon's new director of planning and strategic transport, said: "It would be great to see it delivered but I'm not sure it ever will be. It's been kicking around for a while."
She was speaking at an event on tall towers and later clarified: "What I was saying about One Lansdowne was that it had been kicking around in some form or other for a while.
"Planning permission for a similar form of development was granted in 2012 – with a material start on site having taken place earlier in 2017. We had refused planning permission for a similar scheme back in July 2016 – and the recently consented scheme sought to deal with the reasons for refusal."
The reasons the previous proposal was refused were concerns it would harm the setting of heritage assets, the mix of residential units and the amount of affordable housing.
When the current proposal won consent, David Hudson, chief executive of developer Guildhouse Rosepride, said it would become a world-famous building. "With the highest bar and restaurant in London and a viewing gallery open to the public, this really puts Croydon on the map," he said.
In response to Cheesbrough's statement the owner of the site, known as One Lansdowne Road Ltd, issued a statement saying: "We understand that Heather Cheesbrough, as director of planning at Croydon council, made public comment questioning the deliverability of our scheme.
"We find a senior officer of the council making such a comment surprising, unhelpful and potentially damaging at a time when we are putting together the funding for the project.
"The facts are that, One: Planning consent was granted in 2012 for a similar scheme on a smaller site with a significantly different content than now proposed. Two: Planning consent for the current scheme was granted in November 2017 and it is, therefore, totally misleading to suggest that it has been 'kicking around for a while'. Three: We are now working on funding, design and construction procurement with a view to being on site in the first half of 2019."
Cheesbrough said Croydon was keen to have more tall buildings but said the council would insist on quality design and 20% "affordable" housing.
"We are wrestling with issues of design quality," she said in a talk about Croydon's current development scene.
"We want to get stuff built but realise they will remain for a long time and been seen from a long distance and that it's our duty to get them right.
"We are very keen to have tall buildings but they have got to be well-designed and have got to work."
She condemned permitted development saying it had led to some "dreadful" office buildings being converted to flats.
"They look terrible to start with, are subject to terrible work and provide terrible accommodation," she said. "I feel sorry for the people who have bought those units. They will be lumbered with a product that's hard to offload, with high service charges and that look tatty. It's a real problem."
She also pledged to get tough with developers that try to wriggle out of their affordable housing commitments.
"We have to tell them straight, 'unless we get 20% affordable housing you won't get your consent'. We tell them to make a commercial decision notwithstanding the viability report," she said.