Understanding how this durable floor covering is manufactured and classified will help architects specify it in the right commercial applications. This CPD module is sponsored by Forbo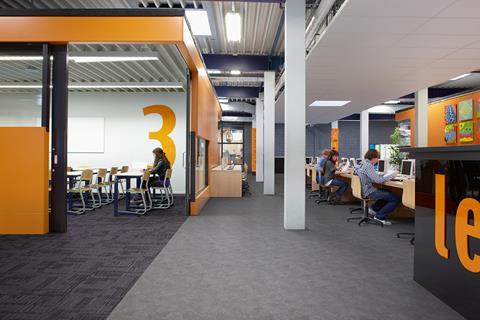 Electrostatically flocked flooring can be paired easily with other types of flooring. In this school setting, Flotex Calgary sheet flooring in Cement 290012 is fitted in the space on the right, with darker Tessera Inline carpet tiles on the left.
How to take this module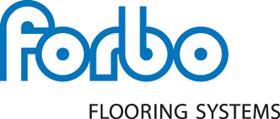 To take this module read the technical article below and click through to a multiple-choice questionnaire, once taken you will receive your results and if you successfully pass you will be issued automatically with a certificate to print for your records.

Electrostatically flocked floor coverings are neither carpet nor resilient floor coverings, though they share characteristics with both. Like resilient floor coverings, they are safe, durable and washable but they offer the appearance, comfort and sound-absorbing properties of textile flooring.
Unlike carpet, they do not harbour allergens, which helps to create healthier indoor environments. As such, they are appropriate for a range of applications including schools, colleges, clinics, care homes, nurseries, hotels, restaurants, museums and airports.
The British and international standard relating to the terminology for textile floor coverings is BS ISO 2424:2007, which replaced BS 5557:199. According to BS ISO 2424, flocked floor coverings are "pile carpet obtained by projecting the staple fibres by electrostatic or other forces on to a support coated with adhesive".
All product testing has to meet the British and European standard BS EN 1307:2008, which covers textile floor coverings and the classification of pile carpets. Under section M50 of the NBS Building specification system, which covers rubber, plastics, cork, lino, carpet tiling and sheeting, flocked floor coverings fall under clause 170 (carpeting), rather than clause 150 (resilient flooring).
HOW FLOCKED FLOORING IS MADE
The term "flocking" refers to the application of fine particles to adhesive coated surfaces. The first modern commercial flocking was carried out on wallpaper in the 1870s, and the first electrostatically flocked floor covering was made in the 1960s by Flotex in Château-Renault in central France.
Today, the Flotex brand of flooring is made by Forbo at its Ripley factory, though where newer digital printing techniques are used to create patterns on the flooring, this is carried out at Château-Renault.
Electrostatically flocked flooring consists of several layers:
Densely flocked surface of polyamide fibres;
Waterproof adhesive;
Glass fibre interlays for dimensional stability, durability and strength;
Cushioned waterproof, rot-resistant backing
These polyamide fibres are made from durable nylon 6.6, which is resistant to wear and staining. The fibres are smooth, straight and cylindrical which makes the flooring easy to clean and helps to maintain its appearance.
The nylon is delivered wet, in boxes, as natural white, undyed continuous filament, known as tow. Each box contains around 2km of material. The tow is cut into 2mm pieces, and the individual fibres – or "flock" – are then dyed to create the desired base shade, and made electrically conductive by passing them through a series of tanks containing a solution with conductive properties.
On the flocking line, a 2m-wide glass-fibre web is fed into the machine and a PVC paste is applied to the surface. A glass fibre net is then laminated into the PVC paste, to add stability and tear-resistance. A second layer of PVC backing is then applied. The sheet is then inverted, a third coat of PVC adhesive is applied to the other side, and treated with an antimicrobial additive. This layer will act as the anchor point for the nylon fibres.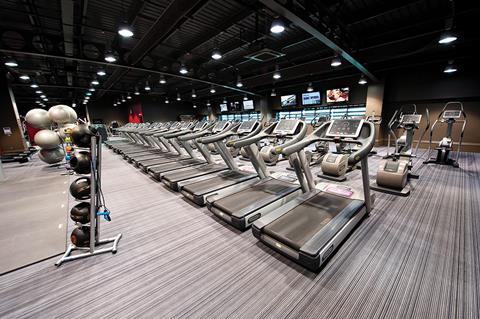 In the flocking room, there are a series of 10 flocking units. In each, a rotating brush pushes the nylon fibres through a metal mesh that is electrostatically charged to a very high voltage and causes the fibres to become charged. As the glass-fibre backing travels along the production line, it is earthed and acts as a magnet for the charged fibres. These fibres are then accelerated into the surface of the adhesive. As the material passes under each successive flocking unit, the density of the fibres gradually increases. The finished surface comprises more than 70 million fibres per square metre.
The material then passes through an oven at elevated temperatures, which both cures the adhesive and brings the material to the required thickness.While the backing is still soft, the product is passed over an embossing roller to create dimples on the underside, which provide a key for adhesive during installation.
After cooling, the material is stored on large rolls containing around 1,000sq m of material.
All material is then tested for aspects of quality control including pile weight, pile adhesion, static and dynamic loading.
Flocked flooring is also available in tile format. On the tile production line, a recycled PVC backing is laminated onto the underside of the flocked surface before it is cut into 50cm tiles and boxed.
DESIGN CONSIDERATIONS
Acoustics
The dense pile of flocked floor coverings helps to soften ambient noise without affecting the audibility of speech.
This can help to meet regulations governing acoustics in schools and other buildings, such as Part E of the Building Regulations, which covers resistance to sound, and Building Bulletin 93, the Department for Education's guidance document on acoustic design in schools. Performance specifications vary depending on the planned uses of individual rooms.
The sound insulating properties of floor coverings are tested under BS EN ISO 10140:2010, which superseded BS EN ISO 140 and covers laboratory measurement of impact sound reduction in building elements, and BS EN ISO 354:2003, which covers the measurement of sound absorption. Under the impact sound reduction test, electrostatically flocked floor coverings achieve an impact sound reduction figure of 20dB (sheet flooring) and 17dB (tiles). Under the sound absorption test, they achieve a sound absorption coefficient αω of 0.10 (both sheet and tile).
Safety
While electrostatically flocked floor coverings are not classified as safety flooring, they can meet Health & Safety Executive recommendations in areas where water may be present, such as wet play areas in schools and public areas where drinks are consumed. Tests carried out using the Pendulum method under BS 7976-2: 2002+A1:2013 have produced results in excess of 36 in wet conditions. This may be classed as having low slip potential.
Environmental
Flocked flooring can be recycled, with flocked scrap and PVC waste reused in floor backings. Forbo's Flotex tiles have 59% recycled content, and the manufacturer also offers an off-cut recycling scheme.
Forbo's Flotex flooring, in both sheet and tile form, is certified under Breeam 2009. Unlike the 1999 version of the Breeam ratings, different ratings are provided for a range of building types (see chart left).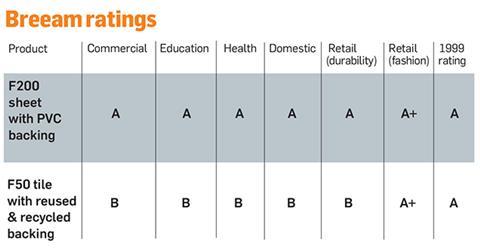 Health and hygiene
Due to the structure of the material, flocked flooring releases dry dirt easily on vacuuming. It is also fully washable for cleaning up spillages or for areas that have been heavily soiled. The waterproof backing and upright nylon pile allows it to be cleaned all the way down the pile. Because it has a shorter pile than a traditional textile covering, the amount of cleaning chemical required for wet cleaning is less and the drying time is quicker.
Forbo's Flotex floor covering also contains an antimicrobial treatment in the adhesive layer which offers protection against bacteria, mould, odours and dust mites. This is not degraded by wet cleaning or vacuuming.
Flotex is the only textile floorcovering to hold the Allergy UK Seal of Approval.
Durability
BS EN 1307 specifies requirements for the classification of all wall-to-wall pile carpets and pile carpet tiles into use classes according to their wear and appearance retention. A variety of tests on aspects such as thickness, pile density and colour fastness are used to gauge the rating.
Appearance change is tested using a Vetterman or Hexapod test, carried out using a rotating drum in which a sample of the carpet is placed. A heavy ball with six polyurethane studs is placed inside the drum, which is then rotated a specified number of times in both directions. Forbo's Flotex flooring achieves a maximum of 4 after 4,000 cycles and 3.5 after 12,000 cycles. According to BS EN 1307, it comes under class 33, suitable for heavy commercial use.
Achieving unique designs
A range of standard patterns or custom designs can be created with flocked flooring. Both sheet and tile products can be cut into shapes and inserted, and patterns can be printed on to sheets of flooring using either conventional or digital printing methods.
During conventional rotary screenprinting, the jumbo rolls of material travel along a conveyor belt under up to 12 cylindrical screens into which a design is cut. Coloured inks are pumped into each screen and pushed through the patterned area on to the material. Each screen represents one colour separation and the complete pattern is built up from successive colours. The material then enters a steamer where the print is fixed permanently into the pile. This technique is appropriate for semi-plain and small geometric designs, but light-on-dark printing is not possible and all print has to be darker than base flock.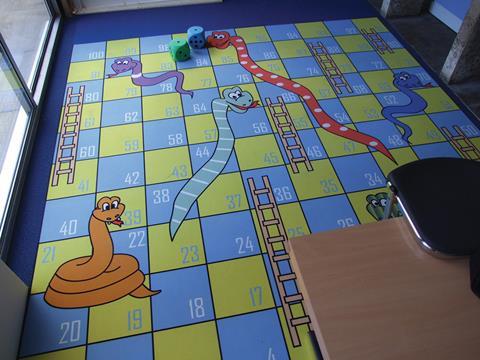 With digital printing, design files are first created and then converted into printable format. The 2m-wide rolls of white flooring are pretreated, before six standard inks are applied by a drop-on-demand (DOD) piezo inkjet head, to create a high-resolution wide-format digital print.
Piezo inkjet printing is an alternative to thermal inkjet printing, where ink is deposited using piezoelectricity (the electricity that builds up in certain materials when they are subject to pressure) rather than heat. Piezo inkjet printing enables a wider variety of inks to be used than in thermal printing. Using this process, near-photographic quality definition (up to 650 dpi) can be achieved. There is much greater design freedom than with conventional printing, and both small runs and light-on-dark printing are possible.
BD's free continuing professional development distance learning programme is open to everyone who wants to develop and improve their professional knowledge. These modules can contribute to your annual CPD ctivity and help you maintain membership of professional institutions and bodies.
This module will contribute 1 hour towards your CPD obligations. If successfully completed, certificates will be distributed two weeks after the module closes.
Duration: 1 hour
Module 26 Deadline: 20 December 2013

Postscript
Privacy policy
Information you supply to UBM Information Ltd may be used for publication and also to provide you with information about our products or services in the form of direct marketing by email, telephone, fax or post. Information may also be made available to third parties. "UBM Information Ltd" may send updates about BD CPD and other relevant UBM products and services. By providing your email address you consent to being contacted by email by "UBM Information Ltd" or other third parties. If at any time you no longer wish to receive anything from UBM Information Ltd or to have your data made available to third parties, please write to the Data Protection Coordinator, UBM Information Ltd, FREEPOST LON 15637, Tonbridge, TN9 1BR, Freephone 0800 279 0357 or email ubmidpa@ubm.com.