A building's entrance flooring system plays a key role, and it is vital to understand how to specify to meet the demands of legislation and provide efficiency and visual appeal. This CPD module is sponsored by Forbo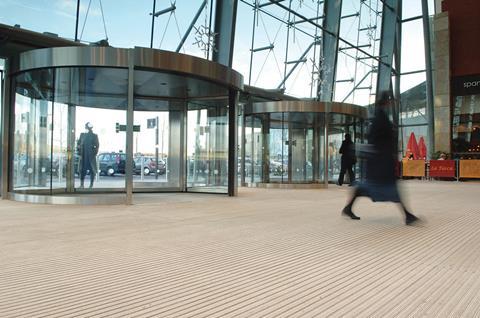 Forbo's Nuway Tuftiguard Classic reversible matting was chosen to suit the heavy footfall of Glasgow's Silverburn shopping centre.
How to take this module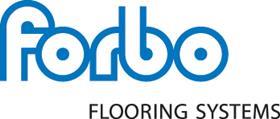 To take this module read the technical article below and click through to a multiple-choice questionnaire, once taken you will receive your results and if you successfully pass you will be issued automatically with a certificate to print for your records.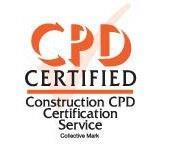 The vast majority of the dirt that enters buildings is brought in on the soles of shoes and the tyres of wheeled traffic. This wet and dry soiling makes interiors look dirty and unattractive and cause damage to interior floor coverings and finishes. It also creates unnecessary health and safety hazards: according to the Health & Safety Executive (HSE), slips, trips and falls made up more than half of all reported major workplace injuries in 2010-11.
A building's entrance flooring system (EFS) therefore is a key consideration in the design of any main entrance point. This CPD aims to provide an understanding of how to specify an EFS in order to comply with current legislation, including health and safety guidelines and the Equality Act 2010.
LEGISLATION
Two main pieces of legislation affect the specification of EFSs:
BS 7953:1999, which provides guidance on the role of an EFS and product types
BS 8300: 2009+A1:2010, which advises on making entrances safe and accessible to all.
BS 7953:1999
Part 3.1 of this standard defines an EFS in broad terms as an "installation of flooring materials designed to reduce the ingress of soil into a building or to reduce the transfer of soil from one part of a building to another". It states that an EFS is necessary in order to:
Reduce the risk of slip injuries
Prolong the life of the interior floor finish
Reduce the cost of ongoing maintenance.
The standard also outlines how the EFS should perform these functions: "The entrance flooring system should scrape, wipe and retain soil, making contact with both feet of people entering the building and, in the case of wheeled traffic, with the circumference of the wheels."
This last stipulation gives an indication of the appropriate size of an EFS. The wheels of a wheelchair have a diameter of 56-66cm, which equates to a circumference of 172-207cm. For the wheels to turn twice on the EFS (in order to remove as much dirt and moisture as possible), the minimum length of the system would be about 4m.
Of course, many buildings don't have this amount of space — products used in compact spaces will be outlined later in the CPD.
BS 8300: 2009+A1:2010

This standard is a code of practice for ensuring that the design of buildings and their approaches meet the needs of disabled people. It emphasises the need for ease of movement for wheelchairs in building reception areas, stating: "The approach from the principal entrance to the reception point should be direct, free from obstruction, have a firm, slip-resistant surface and allow easy manoeuvre of a wheelchair."
The standard directly addresses the need for entrance matting systems conforming to BS 7953, to reduce "the ingress of soil and surface moisture to buildings, or their transfer between adjacent internal areas, [to their] lowest practical level".
Because of the need for a firm surface, it advises against the use of loose-lay mats and coir. It also advises that an EFS use colours that contrast with adjacent floor coverings in order to help comply with the guidelines for the visually impaired.
PRODUCT TYPES
BS 7953:1999 part 3.1 mentions a number of suitable product types. These include:
Grille, random looped
These mats are for external and internal applications and help to remove heavy areas of dirt and grit. They can include scraper bars, typically in aluminium, brass or PVC, and rubber or polyamide wiper strips. The scrapers and wipers can be incorporated in either an open or closed construction. An open construction is particularly suitable for external use and allows removed particles and moisture to fall through the open sections in the mat, to be collected and stored in the matwell. A closed construction is suitable for interior and transitional areas. Soil removed from shoes and wheel treads is collected within the mat itself.
Ribbed
These mats are laid with the ribs at right angles to the direction of traffic. The ribs act to trap and retain soil and moisture in the first few steps inside an entrance area. Ribbed mats come in a wide variety of types and prices.
Textile
Textile entrance flooring comes in a wide range of colours and textures, with aesthetic benefits such as the ability to blend in with interior floor finishes. Different types of yarn can be used to help absorb moisture, brush soil from shoes and withstand heavy pedestrian and wheeled traffic.
Modular
Many flooring types come in modular systems that clip together, making them easy to transport and stock, and allowing specifiers to make use of a mix of products.
Supplementary mats
It should be remembered that loose mats can introduce a range of hazards. Extra matting should be considered a temporary fix, not a permanent feature. At the first opportunity, improve the entrance design. The HSE's Watch Your Step campaign strongly advises against the use of loose-lay mats.
FACTORS TO CONSIDER
Volume of traffic
The level of footfall and wheeled traffic will be the key factor in determining the most suitable product.
For areas of high traffic, it is important to think about aspects such as colour (light colours will show signs of soiling more quickly) and durability.
Consider the thickness of the mat and whether it softens the sound of footsteps. Note too that some mats are designed to be reversible, lengthening their service life.
Type of traffic
Are pedestrians the only building users or must your system cater for wheeled traffic? Entrance flooring in airports, hospitals and hotels, for instance, will need to withstand the weight and movement of vehicular traffic and trolleys.
In supermarkets, where there may be front-loading and the use of cherry pickers, it is essential that the EFS is suitable for use with very heavy static and dynamic loads.
Even where there will not be heavy traffic through the entrances, maintenance vehicles may have to stand on the mat — for example, to clean windows.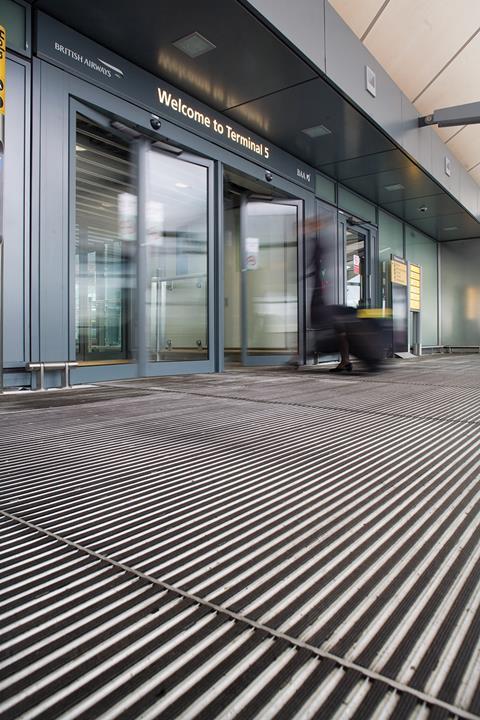 Soil type
Car parks, garage forecourts and loading bays generate oily, greasy deposits. High street shops need entrance systems with high water absorbency. Fine sand can be a problem in coastal areas, where an open construction in external areas may be necessary.
External environment
In addition to the soil type, the surrounding built environment is a key factor. For example, is the outside entrance covered or are people walking straight from a wet area into the building? Is the entrance on a windy corner where a lot of dirt could be blown in?
Entrance configuration
In revolving or double-door systems, people shuffle as they walk through, so these systems help the EFS wipe the soles of shoes. With automatic doors, visitors stride through, so the floor system has to be much larger to be effective.
Aesthetics
The appearance of an EFS is particularly important, as it is one of the first impressions of a building. There are many ways to personalise an entrance, including cutting or printing logos onto textile systems.
Sustainability
Check that the product that you are thinking of specifying has been Breeam assessed. Note that rigid systems have no Breeam rating. Some textile systems use recycled yarns.
Fire resistance
For areas with a heightened risk of fire, some flooring types can be supplied with a flame-retardant latex backing.
Zoning
Designing an entrance system around zoning principles will ensure its effectiveness. For example, for a heavy-traffic shopping centre, separate the system into the following three areas:
External primary matting:Use products with an open construction that removes coarse dirt, made from materials suitable for outside use, such as rubber.
Interior primary matting:This continues the work of the first zone but also starts to remove moisture.
Secondary interior matting: This is usually a textile product that removes the final traces of moisture and dirt and also has improved aesthetics.
Installation
There are two options for rigid entrance flooring systems: recessed or surface-mounted. Recessed matwells allow the system to sit at the same level as surrounding flooring. Where there isn't the option to dig down, mats must be surface-mounted and fitted with ramps suitable for wheeled traffic.
Case study: Aviva Stadium, Dublin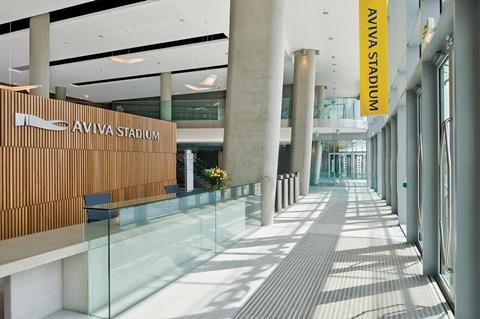 The Aviva Stadium opened in 2010 on the same central Dublin site as its predecessor, the historic Lansdowne Road stadium.
The new building, designed by Populous and Scott Tallon Walker, hosts national football and rugby matches and many other events. With such a high volume of traffic passing through the doors on a regular basis, the entrance and exits required a flooring system that would withstand intensive use.
Forbo's Nuway Heavy Duty Classic entrance matting was installed in all of the internal premium entrance areas on the ground floor of the east and south stands and the third floor of the west stand, along with the players' and VIP entrance areas.
This product was specified with a grey pile wiper strip and an aluminium scraper bar to effectively scrape and retain soil and moisture.
All turnstiles in the heavy traffic areas on the first floor are fitted with Forbo's Nuway Tuftiguard Plain engineered flooring with an unbuffed wiper strip and an aluminium scraper bar. The rigid engineered mats are able to scrape off the worst of the soil and moisture brought in on the soles of shoes or treads of wheeled vehicles. This helps to keep busy internal areas clean and dry and minimise the risk of slipping.
BD's free continuing professional development distance learning programme is open to everyone who wants to develop and improve their professional knowledge. These modules can contribute to your annual CPD ctivity and help you maintain membership of professional institutions and bodies.
This module will contribute 1 hour towards your CPD obligations. If successfully completed, certificates will be distributed two weeks after the module closes.
Duration: 1 hour
Module 24 Deadline: November 29 2013
Postscript
Privacy policy
Information you supply to UBM Information Ltd may be used for publication and also to provide you with information about our products or services in the form of direct marketing by email, telephone, fax or post. Information may also be made available to third parties. "UBM Information Ltd" may send updates about BD CPD and other relevant UBM products and services. By providing your email address you consent to being contacted by email by "UBM Information Ltd" or other third parties. If at any time you no longer wish to receive anything from UBM Information Ltd or to have your data made available to third parties, please write to the Data Protection Coordinator, UBM Information Ltd, FREEPOST LON 15637, Tonbridge, TN9 1BR, Freephone 0800 279 0357 or email ubmidpa@ubm.com.