This module, sponsored by Stannah, explains the most important accessibility requirements and design considerations when installing vertical transportation in new and existing buildings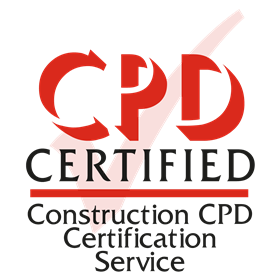 How to take this module
UBM's CPD distance-learning programme is open to anyone seeking to develop their knowledge and skills. Each module also offers members of professional institutions an opportunity to earn between 30 and 90 minutes of credits towards their annual CPD requirement.
This article is accredited by the CPD Certification Service. To earn CPD credits, read the article and then click the link below to complete your details and answer the questions. You will receive your results instantly, and if all the questions are correctly answered, you will be able to download your CPD certificate straight away.
CPD CREDITS: 60 MINUTES
DEADLINE: 3 NOVEMBER 2017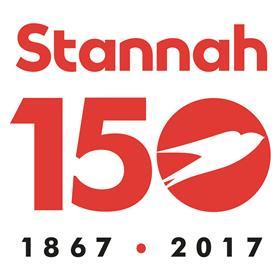 INTRODUCTION
It is essential to install a lift in most commercial buildings that have two or more floors. Not only does a lift add value by speeding up the movement of people up and down the building, it also helps the building owner to meet the regulatory requirements on accessibility. This CPD outlines the relevant regulations and standards, as well as design considerations for specifiers and the various options available.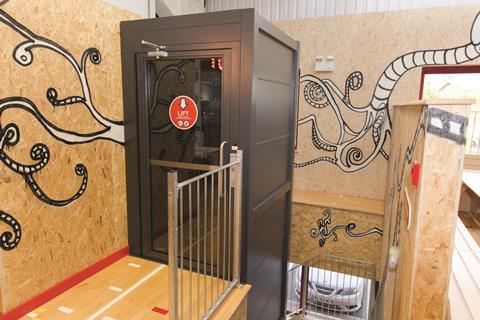 ACCESSIBILITY LEGISLATION
The Equality Act 2010
Sometimes a physical feature of a building or other premises may make it more difficult for a disabled person to access or use it. The Equality Act 2010 brings together and strengthens previous equalities legislation, including the now defunct Disability Discrimination Act (DDA) 1995. The Equality Act says there is a duty to make reasonable adjustments if you're placing someone at a substantial disadvantage because of their disability compared to non-disabled people. The objective is for all people to travel vertically and horizontally through a building conveniently and without discomfort.
Building Regulations Part M
Accessibility is covered by Part M of the Building Regulations. Approved Document M, Volume 2 applies to buildings other than dwellings and provides guidance on how publicly accessible buildings can conform to the Equality Act. The Approved Document deals with requirements:
M1. Reasonable provision must be made for people to gain access to and use the building and its facilities
M2. Suitable independent access must be provided to the extension where reasonably practicable.
Part M states that:
For all buildings, a passenger lift is the most suitable form of access for people moving from one storey to another (section 3.21)
For existing buildings, and in exceptional circumstances for new developments with particular constraints (such as a listed building or an infill site in a historic town centre), where a passenger lift cannot be accommodated, a vertical lifting platform (platform lift), although not equivalent to a passenger lift, may be considered as an alternative option to provide access for persons with impaired mobility (section 3.22)
In exceptional circumstances in an existing building, a wheelchair platform stairlift may be considered, provided its installation does not conflict with requirements for means of escape (section 3.23).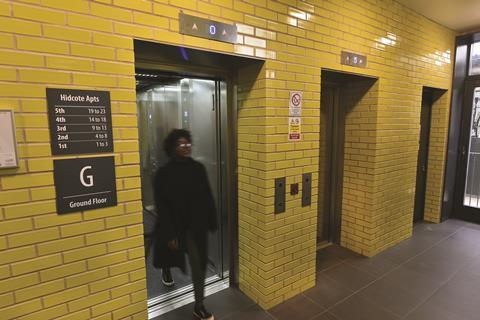 So while Part M states that the preferred solution for disabled access is a passenger lift, it also recognises that it may not always be possible for a building to accommodate one. This could be for one or more of the following reasons:
There is not enough space within the building
The heritage of the building means that its structure cannot be altered
The travel required is minimal
The need is not for all users of the building.
If you think your building needs a platform lift rather than a passenger lift, the case for this should be discussed and agreed with Building Control. Part M details both building design considerations and more specifically the requirements that the lift must comply with, such as lift-car size, door opening widths, position of controls and audible/visual notification systems.
These standards differ in Scotland. Section 4.2 of the Technical Handbook (Scotland) refers to vertical circulation within a non-domestic building. This Technical Handbook gives guidance on achieving the standards set in the Building (Scotland) Regulations 2004. Similar to the British standards, they state a preference for passenger lifts first and platform lifts as an alternative.
British standards
BS 8300:2009+A1:2010 addresses the design of buildings and their ability to meet the requirements of disabled people. The standard recommends that in multistorey buildings at least one lift is of sufficient size to be accessible by wheelchair users.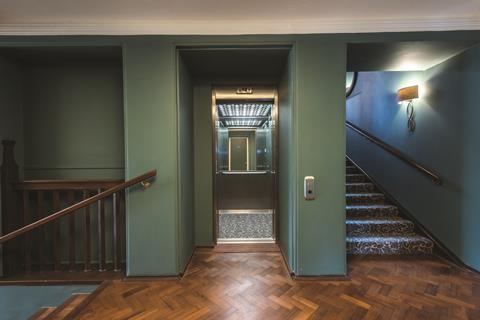 DESIGN CONSIDERATIONS
There are a number of considerations for specifiers to bear in mind once a need for a lift (or lifts) has been identified, whether it is to be the only one in the building or an additional lift for extended access.
The first to consider are the practical requirements of the building itself, such as the space within the building, the number of floors, the amount of headroom and pit depth available, and whether there is room to build or accommodate a lift shaft. Lift options will also be affected by other requirements such as safety and reliability, cost-effectiveness, complementing existing decor, energy efficiency and regulatory compliance.
Size and capacity
It is also important to consider the profile of the lift user and the expected traffic/usage of the lift. Building Regulations set requirements for each lift type, and Part M states a minimum lift size for compliance, set out in table 1 below.
Flow of traffic
Specifiers should also consider the frequency of movement between floors throughout the day. Are there busy times of day for the lift, but not much use in between? What is the flow of traffic like? For example, in an office there may be traffic at the start of the day, at lunch time and at the end of the working day, whereas a lift in a retail store might be much more constant throughout the day.
Can the lift be placed close to the stairs? Could a platform lift be installed for limited use, where it will not be used as the main method of vertical travel? If a lift is installed in the main entrance lobby but the main stairs are at the back of the building, the lift will be used more frequently. Conversely, if the lift is not in an obviously visible location, people will choose the stairs. To make your lift fully accessible to the people who need to use it, adequate signage should be provided and placement should ideally be close to the stairs. The life cycle of the building should also be considered. Is its present use permanent or might the nature of traffic within the building change? In other words, does the lift add value to the building or does it provide a solution in the short-term?
Lift users
Specifiers should consider who will be using the lift and how they will be using it. What types of people are going to be using the building? Can they use the lift independently? Will they be carrying luggage or goods? For example, in a nursing home or other place where elderly people will use lifts independently, the automatic buttons of a cabin-platform lift will be easier for users to operate than the constant pressure (hold to run) required by a standard platform lift.
The main users and purpose of the building also need to be taken into account when specifying finishes and fittings. For example, on social housing projects, aesthetics may come second to a vandal-resistant finish or the requirement for a fire-fighting lift. BS 5655-6:2011 provides guidance on the selection, installation and location of new lifts, but it is also considered good practice to follow a similar system for existing buildings.
TYPES OF VERTICAL LIFT
For commercial buildings where there are two or more floors, or changes in level within the building, it is likely that some sort of lift will be necessary to provide access for all. The main types of passenger and platform lift are considered below.
Under European legislation, lifts fall under either the Machinery Directive or the Lifts Directive. In broad terms, lifts that fall under the Machinery Directive can be defined as platform lifts and those under the Lifts Directive as passenger lifts or goods/passenger lifts. The key difference is
speed: the Lifts Directive covers any product carrying passengers with a speed of over 0.15m a second. The Machinery Directive covers any product carrying passengers with speeds of 0.15m/s and under.
Passenger lifts
Passenger lifts can range in capacity from three people to 33, but 8-person lifts are the most common size. A wide range of finishes and specification options are available.
For taller or larger buildings, passenger lifts (one or more) should always be the default choice. As part of this, the specification of the passenger lift requires careful consideration – for example, some lifts can be used for fire-fighting and evacuation purposes, or require an element of vandal resistance depending on the application.
Passenger lifts have a level of flexibility and an array of options for specification to meet complex project requirements that are not available for platform lifts. For example, the drive type can be adjusted for light or heavy use, systems may be controlled with a keypad or swipe card, and multiple lifts can be configured in a collective operation. They are generally installed into a purpose-built shaft, but can be installed into a glazed or steel structure. A passenger lift is designed to carry both ambulant people and those with impaired mobility. Passenger lifts are fully automatic, meaning all landing and car push buttons are automatic or "latched".
Platform lifts
Platform lifts can be grouped into four categories:
Low-speed lifts
Enclosed platform lifts
Open platform lifts
Inclined platform lifts.
Low-speed lifts
These lifts are wall-mounted. This means they can be installed in shafts with much reduced pit and headroom dimensions, which reduces the cost of building work and makes them suitable for locations where it is not possible or practical to install a passenger lift. They operate in a similar way to conventional passenger lifts, but are restricted to a maximum speed of 0.15m/s. A low-speed lift will not offer the same performance as a passenger lift and they are typically smaller, carrying up to five people, so they are more suited to low-rise applications (typically two or three floors) where use is expected to be limited.
Benefits include the similarity to passenger lifts. The automatic buttons, automatic car and landing sliding doors make the lift easier to use and more appealing, with no encroachment onto landings. Once inside, the lift user will not see any moving walls, as they do in other lifts that fall under the Machinery Directive, and there is greater opportunity to make the finishes unique.
They may also be referred to as low-pit lifts, pitless lifts or fully enclosed platform lifts.Enclosed platform lifts
Enclosed platform lifts are designed to provide disabled access in low-rise buildings where there is no passenger lift or where it is impractical to install one. These can also be used for passengers with buggies and luggage, subject to weight limits. They are designed to provide vertical movement between floors in a low-rise building (typically two to four floors).
There are two main types of vertical enclosed platform lifts:
Standard platform lifts – a platform moving within a vertical enclosure, operated by continuous pressure push buttons
Cabin platform lifts – a cabin moving within a vertical enclosure, operated by single touch buttons
These lifts would typically serve up to two or three floors. While some are marketed as capable of serving up to six floors and/or 12m or more, careful consideration should be given to the length of travel. A standard platform lift travelling 12m would take 80 seconds or more to travel from top to bottom, which is a long time for the user to press and hold the button, particularly for those who are elderly or easily fatigued.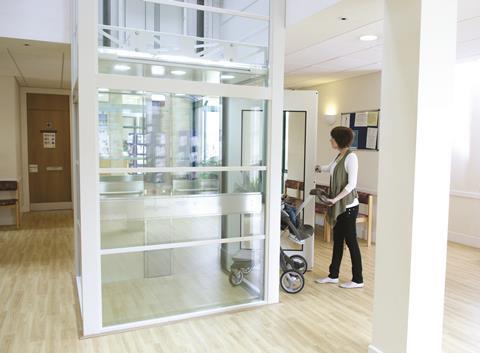 Cabin platform lifts
Cabin platform lifts have cabin walls, a ceiling, and a "virtual" or physical cabin door on sides with an entrance/exit. This means that the carrier is effectively enclosed, so provided the appropriate safety features are included on the lift, automatic controls can be included, rather than the constant-pressure (hold to run) controls found on conventional platform lifts. The lift therefore operates in a similar way to a passenger lift, and does not require the user to continuously press and hold a button while travelling. Cabin platform lifts also offer a greater range of finishes.
Enclosed platform lift standards
The relevant British standard for platform lifts is BS EN81-41:2010. There is no current standard that specifically covers cabin platform lifts, but they must comply with the Machinery Directive. Many manufacturers reference applicable parts of relevant standards, in particular BS EN 81-41:2010 and BS EN 81-70:2003. Work is underway to create a new standard for low-speed lifts, BS EN 81-42, which is expected to cover cabin platform lifts.
Due to the speed restrictions of the Machinery Directive, enclosed platform lifts do not offer the same level of service as a passenger lift, but can provide a cost-effective alternative in existing buildings where it is cost prohibitive to build a lift shaft, or in a new building where use will be limited.
Open platform lifts
Open or non-enclosed lifting platforms (sometimes called steplifts) vertically move users on a guarded platform from one level to another, typically where there is a small change in floor level or a mezzanine level in a public building. As such, they have the lowest available travel. These lifting platforms are operated by continuous-pressure push buttons and conform to BS 6440:2011. The standard allows a maximum travel of 3m, derived from the Machinery Directive, although most extend to just 2m, because travelling any further on an open-platform can be disconcerting. An enclosed platform lift is recommended for distances greater than 2m.
Inclined platform lifts
This is another type of platform lift, also known as a wheelchair platform stairlift. A platform travels on a rail up the pitch line of a stair and folds away at the top and/or bottom. It allows an individual (seated or in a wheelchair) to travel up and downstairs. They may be installed in existing public buildings where neither a passenger nor a vertical lifting platform can be fitted. They are often a last-resort solution to the problem of disabled access.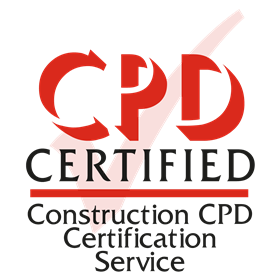 How to take this module
UBM's CPD distance-learning programme is open to anyone seeking to develop their knowledge and skills. Each module also offers members of professional institutions an opportunity to earn between 30 and 90 minutes of credits towards their annual CPD requirement.
This article is accredited by the CPD Certification Service. To earn CPD credits, read the article and then click the link below to complete your details and answer the questions. You will receive your results instantly, and if all the questions are correctly answered, you will be able to download your CPD certificate straight away.
CPD CREDITS: 60 MINUTES
DEADLINE: 3 NOVEMBER 2017

Privacy policy
Information you supply to UBM Information Ltd may be used for publication and also to provide you with information about our products or services in the form of direct marketing by email, telephone, fax or post. Information may also be made available to third parties. UBM Information Ltd may send updates about Building CPD and other relevant UBM products and services. By providing your email address you consent to being contacted by email by UBM Information Ltd or other third parties. If at any time you no longer wish to receive anything from UBM Information Ltd or to have your data made available to third parties, contact the Data Protection Coordinator, UBM Information Ltd, FREEPOST LON 15637, Tonbridge, TN9 1BR, Freephone 0800 279 0357 or email ubmidpa@ubm.com. View our full privacy policy at www.building.co.uk/cpd