Practice's resi-led scheme supersedes Conran & Partners proposals for art deco cinema
CoveBurgess Architects has created new plans for the redevelopment of a disused art deco cinema in Brighton, three years after Conran & Partners proposals won the backing of city planners.
The latest scheme, lodged earlier this month with Brighton & Hove council, would see the grade II-listed Astoria building demolished to make way for a new building of up to seven storeys with 70 apartments and retail and workspace at its ground and basement levels.
The scheme, drawn up for developer Ktesius and dubbed the "Rox", would replace the earlier Conran proposals, which were predominantly commercial space.
In 2011 a Conran-designed development that would have replaced the cinema with office space, start-up and enterprise units, meeting and community spaces and a restaurant were approved by the city council.
In 2014 an expanded version of that scheme featuring additional commercial space and six apartments was also approved.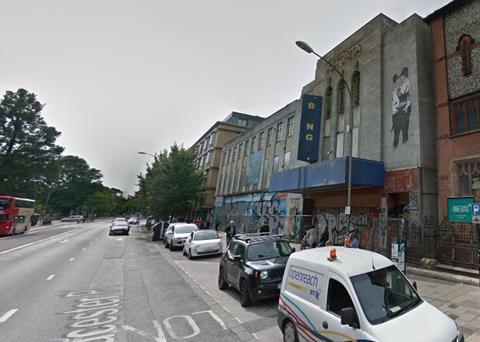 CoveBurgess partner Dan Cove said the cinema site had been disused for more than 20 years and that the latest proposals would rejuvenate Gloucester Place.
"Brighton is an inclusive and vibrant city, with a wide demographic and diverse mix of culture. The scheme picks up on that attitude, and the spirit of 1930s urbanity, where an apartment in the centre of town is the sophisticated choice, and anything else a compromise," he said.
The Astoria first opened in 1933 but stopped showing films in 1977 and was subsequently used as a bingo hall. It has been vacant since 1996.