Pictures show Serpentine artwork getting close to its highest point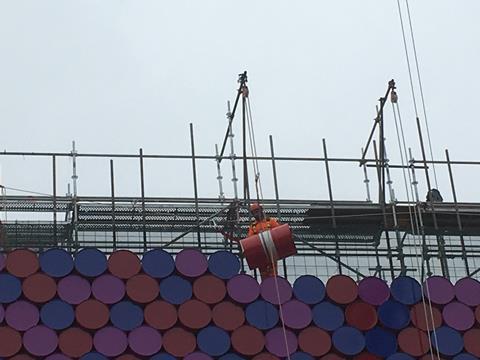 A giant stack of barrels designed by the artist Christo is taking shape in Hyde Park.
The 20m high artwork, which is being built on a platform floating on the Serpentine, is called Mastaba after its shape.
More than 7,000 barrels painted red, white, blue and purple are being lifted one by one into place on a steel scaffold by crane and hand.
The flat-topped pyramid is Christo's first major outdoor work in the UK.
He is covering the cost of the installation out of his own pocket.
The Mastaba (Project for London, Hyde Park, Serpentine Lake) will be 20m high and 30m by 40m in plan, taking up about 1% of the lake. The total weight will be approximately 500 tons.
Weather permitting, the installation will open on June 18 and remain in place until September 23.
Christo and his late wife Jeanne-Claude will be the subject of a concurrent exhibition at the Serpentine Galleries. They have produced several works using barrels but are probably best known for wrapping Berlin's Reichstag with 100,000sq m of fabric in 1995.