Sam Jacob and new AA director get into bed at Serpentine Pavilion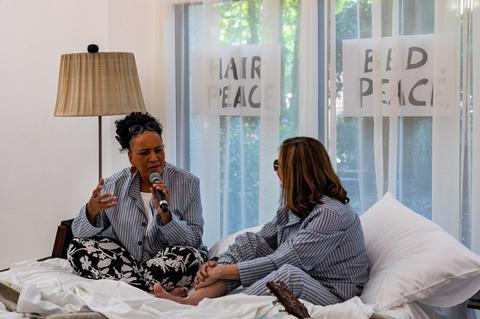 Sam Jacob, Alison Crawshaw and new AA director Eva Franch i Gilabert are among the architectural figures who will take part in a recreation of John Lennon and Yoko Ono's historic Bed-In for Peace.
Architectural historian Beatriz Colomina is to create a site specific installation in the Serpentine Pavilion this weekend inspired by the famous 1969 protest by the artist and her Beatle husband.
Colomina will hold conversations with a series of participants as part of this Saturday's Work Marathon, in which artists, social scientists and philosophers will discuss work, labour, automation and leisure in Mexican architect Frida Escobedo's 2018 pavilion.
The participants include Sam Jacob, Mark Cousins, Frances Holliss, Alison Crawshaw, Marina Otero Verzier, Ines Weizman, Troika, Territorial Agency, Eyal Weizman, Revital Cohen & Tuur Van Balen, Eva Franch i Gilabert and Nina Power.
Colomina said: "The bed has become the epicentre of post-industrial work. In the age of social media, a unique horizontal architecture is redefining and redistributing labour."
The Ono-Lennon bed-in was held in room 902 of the Amsterdam Hilton Hotel from March 25-31, 1969.
The Serpentine Pavilion 2018 closes on October 7.