20m-tall trapezoid will be created from 7,000 barrels
The artist Christo is to build a 20m tall floating structure on London's Serpentine using 7,506 barrels.
The flat-topped pyramid will be the shape of an Ancient Egyptian tomb, a mastaba. It will be Christo's first major outdoor work in the UK.
He and his late wife Jeanne-Claude, who will be the subject of a concurrent exhibition at the Serpentine Galleries, are probably best known for wrapping Berlin's Reichstag with 100,000sq m of fabric in 1995, but they have also produced several works using barrels.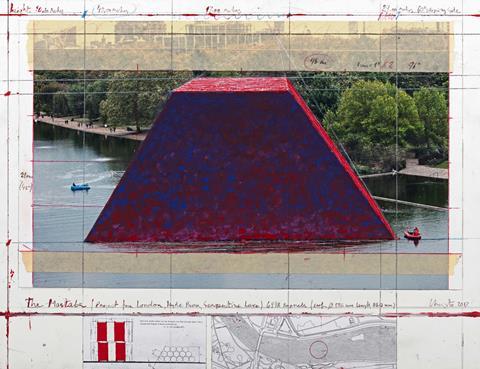 The London project, construction of which began this month, is a smaller version of a permanent but as-yet unrealised mastaba proposed for a site in the Gulf using 400,000 oil barrels.
The 55-gallon barrels for the London project will be specially fabricated and painted in blue, red and mauve.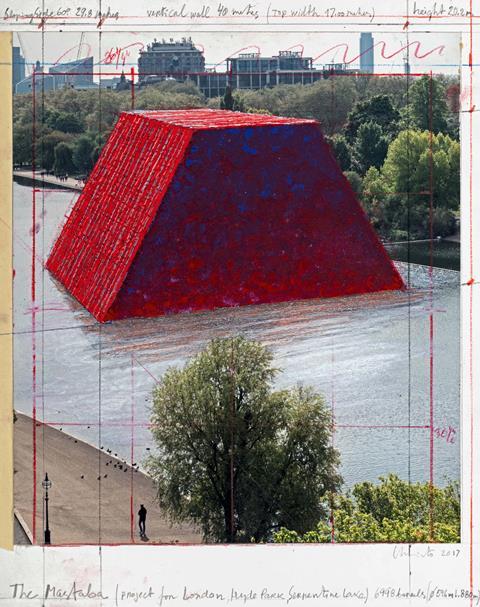 They will be stacked horizontally around a steel scaffolding frame erected on a floating platform built from high-density polyethylene cubes held with weighted anchors.
The Mastaba (Project for London, Hyde Park, Serpentine Lake) will be 20m high and 30m by 40m in plan, taking up about 1% of the lake. The total weight will be approximately 500 tons.
All the parts will be recycled, said the galleries' press team.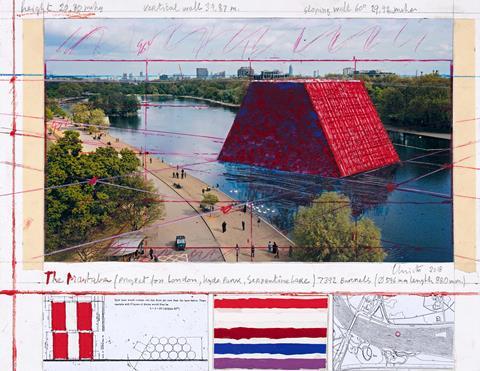 "For a few months The London Mastaba will be a part of the Serpentine Lake and its natural and urban surroundings," said Christo.
"I am excited to realise this temporary outdoor sculpture in the UK this summer. Like with all of my projects, the construction, maintenance and removal of artwork will be entirely funded by me through the sale of my original works of art.
"The London Mastaba in Hyde Park will be absolutely free to the public – no tickets, no reservations and no owners. It will belong to everyone (until it's gone).
"I am also looking forward to the Serpentine Gallery exhibition exploring the use of barrels in my works from 1958 to today, which will provide important context for The London Mastaba."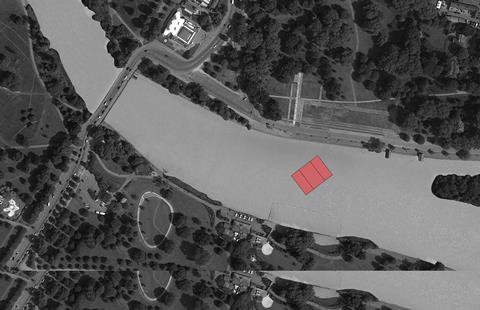 Loyd Grossman CBE, Chairman of The Royal Parks charity, said it would be an "outstanding installation".
Weather permitting, the installation will open on June 18 and remain in place until September 23.