Practice completes new entrance and 5,000sq m revamp at 'world's best department store'
David Chipperfield Architects has announced the completion of its four-year project to transform the eastern side of the Selfridges department store in London.
The practice was appointed to the job – which has seen the creation of a new entrance on Duke Street and the fashioning of a 5,000sq m accessories hall – in 2014.
The work is part of a £300m capital programme at the Oxford Street institution, which was named the world's best department store by trade body the Intercontinental Group of Department Stores earlier this year.
Chipperfield said the new entrance united Selfridges' two historic buildings and sought to create a cohesive architectural framework for the store.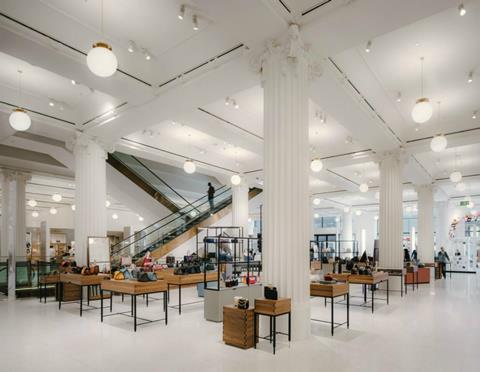 "Selfridges has a deep understanding of the architectural heritage and urban presence of the department store, as well as a clear vision for the future of luxury retail," he said.
"Our task was to unite these elements while stitching together various buildings along Duke Street.
"Externally, we have sought to reinforce the civic function of the store with a grand new entrance.
"Internally, we have established a sense of coherence between the brand concessions and reasserted a hierarchy under the strong neo-classical architectural elements of the original building."