New York institution's new director presses play on 2015 appointment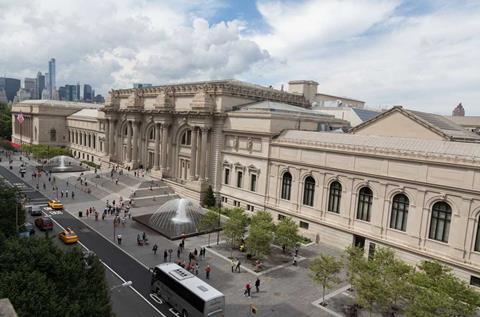 David Chipperfield Architects is celebrating after New York's Metropolitan Museum of Art announced it was relaunching his expansion plans – less than two years after putting them on hold.
The Met, America's largest art museum, appointed Chipperfield in 2015 to design a new south-west wing on Fifth Avenue to house modern and contemporary art. It followed an international design competition and a year-long selection process by the museum's trustees.
But in January last year the Met announced it was putting the $600m project on hold for "up to seven years" after being forced to make significant budget cuts. In the meantime it said it would work on the roof and skylights.
But the then Met director Thomas Campbell was replaced in April this year by Max Hollein, son of the late Austrian architect Han Hollein, which appears to be the impetus behind the second U-turn.
The Met has also announced it is moving out of the Breuer building it has been renting since 2016 at considerable expense.
Met president and chief executive Daniel Weiss said: "Two years ago the prudent course was to prioritise our large capital projects – enabling us to begin the long overdue replacement of skylights for the European paintings galleries – and to build a financial path toward a balanced budget.
"With this critical work well on its way, and Max's arrival, we are now ready to re-engage with architect David Chipperfield's plan for expanded and improved modern and contemporary galleries."
Hollein said he was exploring a series of contemporary initiatives at The Met Fifth Avenue, including the possibility of a sculpture commission for the facade and installations of contemporary art throughout common areas of the building.
"Our building offers so many ways for visitors to engage with art, and where better than on the facade of our iconic building and within our many majestic common spaces," he said.
Chipperfield's winning proposals in 2015 were to increase gallery space for the art collection, double the size of the roof garden and create accessible on-site storage. They would also improve gallery configuration and navigation and enhance the Met's connections with Central Park, on whose eastern edge it sits, at 1000 Fifth Avenue.
The board wanted Chipperfield to help them "take a giant leap forward" in the way they present modern art alongside collections spanning 5,000 years of history.