Big name architects brought in for talks with Waterloo site's new owner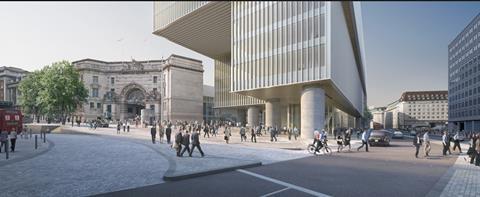 David Chipperfield is understood to be fighting against some of the biggest names in the industry to keep hold of the jinxed redevelopment of Elizabeth House.
The new owner of the building, on a prime central London site beside Waterloo station, is understood to be unhappy with some aspects of Chipperfield's consented scheme.
Sources close to the project have told BD that owner HB Reavis has sent Chipperfield back to the drawing board and is also in talks with Rogers Stirk Harbour, AHMM, Bjarke Ingels' practice BIG and Wilkinson Eyre.
The Slovakian firm, which bought the 1960s modernist building for £250 million in May, would not confirm the names but stressed it was early days and Chipperfield remained in the frame for now.
The architect, who moved his offices into Elizabeth House seven years ago, won planning in 2014 for an 88,000sq m commercial scheme to replace all the buildings on the site and the footbridge across York Road. A 29-storey, 118m tower would contain offices and some resi while its 10-storey sibling would contain offices and retail. A new public space outside the station would also be created.
Since HB Reavis specialises in office developments, it is unlikely that the redesign has been triggered by a desire to change this ratio. Speculation instead centres around the firm's desire to extract more value from the site. The previous owner paid £85m for it in 2010. The immediate context has changed significantly since Squire & Partners won planning for several towers around the Shell Centre on the other side of York Road.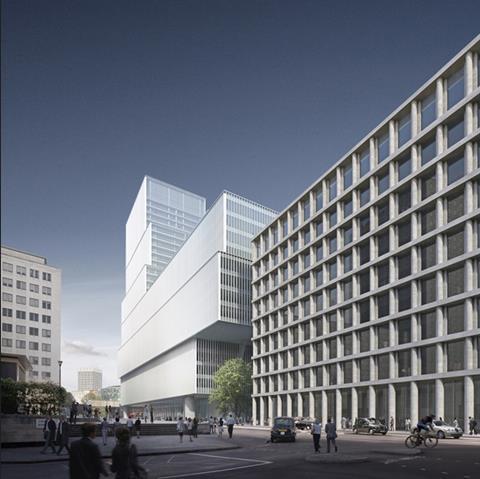 Elizabeth House has a chequered planning history, largely because of its proximity to protected views.
A scheme designed by Allies & Morrison and known as the Three Sisters fell foul of the government in 2009. Chipperfield was appointed in 2010 after beating Hopkins and Grimshaw. At the time it would have been Chipperfield's first major development in London. Subsequently he was forced to defend a High Court bid by Westminster council and English Heritage to derail it.
HB Reavis has three other schemes in London, where it is working with Tate Hindle (Cooper & Southwark), Denton Corker Marshall (20 Farringdon Street) and John Robertson Architects (33 Central).
HB Reavis said this was its biggest investment in London so far.
"Having only recently finalised the purchase we will take some time to properly assess the current consent and will be appointing a design partner to support this process," said a spokesperson.
"We are therefore currently discussing this site with a range of world-class architects including Sir David Chipperfield to work with us, and of course any changes we propose will be fully consulted upon. We intend to be part of the Waterloo community for years to come and we greatly look forward to making a hugely positive contribution to the local area."
They would not be drawn on a timeline for appointing an architect or the possible submission of a new planning application.
David Chipperfield has been contacted for comment.