Images released as scheme goes out to public consultation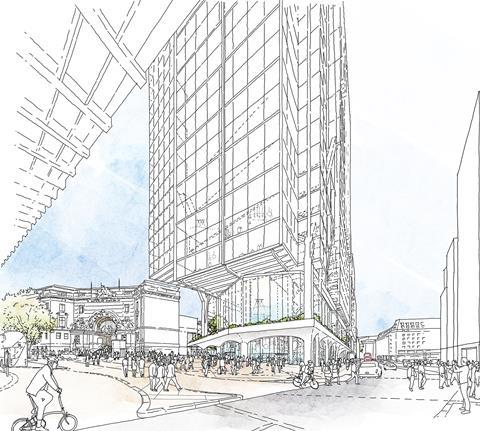 AHMM's proposals to replace the huge post-war office building next to Waterloo Station have gone out to public consultation.
It is the first time the latest designs for the troubled Elizabeth House site have been seen.
AHMM is the third architect to work on the project this decade, after David Chipperfield and before that Allies & Morrison were appointed and ultimately ditched.
The 29- and 10-storey Chipperfield scheme has consent but when the site was bought by HB Reavis in 2017 the firm conducted a review and decided to replace the proposed flats with offices claiming flats would be too expensive to help London's housing crisis and offices would be more appropriate next to the UK's busiest station.
It held a competition to rethink the site featuring Chipperfield, BIG, Rogers Stirk Harbour & Partners and Wilkinson Eyre which was won by AHMM.
AHMM said the structural form of its £1.3bn proposal would be a key aspect of its appearance.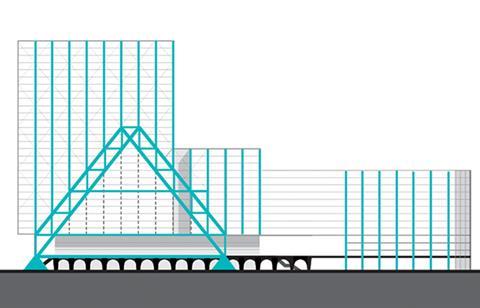 It also said the new building would be no larger than the consented Chipperfield scheme and the neighbouring Southbank Place – Squires' redevelopment of the Shell Centre.
This is a hugely sensitive subject since Historic England and Westminster council launched legal challenges of previous proposals, claiming they would ruin the protected view from Parliament Square.
The developer said: "We have been able to identify a number of areas where we can create additional workspace without negative impacts on local or strategic views, particularly towards the eastern end of the site by shaping the building around the Waterloo Curve."
AHMM's proposals would improve access to Waterloo station with connections through the building to a new pedestrian street between the station and Elizabeth House. Lined with shops and cafes, this would be called Waterloo Curve.
The setting of the station's main entrance would also be improved by the creation of a public space called Victory Arch Square. York Road's pavement would also be widened.
Kiran Pawar, development director at HB Reavis, said: "Our intention is to be part of the Waterloo community for years to come and we greatly look forward to making a hugely positive contribution to the local area. We're really excited to share our early proposals and hope to meet and hear feedback from as many people as possible."
The public's comments will be taken into consideration as the plans develop. A consultation on more detailed proposals will be held later this year.
The consultation is at Waterloo Action Centre on Baylis Road at the following times:
Thursday July 19, 4-8pm
Friday July 20, 10am-6pm
Saturday July 21, 10am-4pm