Silver Royal Academy coin on sale for £82
David Chipperfield has designed a £5 coin to commemorate the 250th anniversary of the Royal Academy.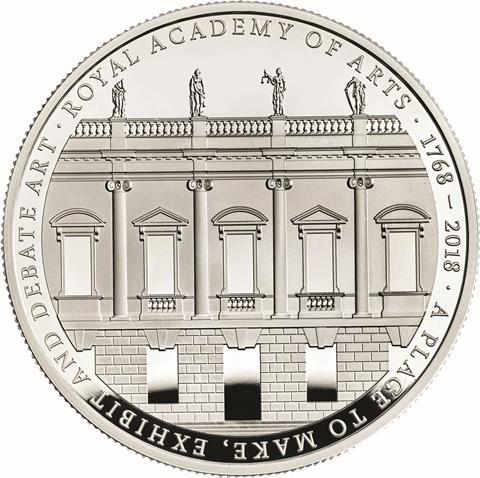 He is the first architect ever to design a coin with the Royal Mint.
Weighing just under 30 grammes and made from a silver alloy in a limited edition of 2,750, it goes on sale with a price tag of £82.50.
Chipperfield, an academician, designed the back of the coin working with graphic designer John Morgan.
He was influenced by an engraving from Vitruvius Britannicus, Colen Campbell's 18th-century architectural treatise.
The coin shows a detail of the original two-storey façade of Burlington House before another level was added in 1872-4 by Sydney Smirke.
Burlington House has changed ownership and been remodelled over the centuries since 1664 by a series of major architects including Campbell, Samuel Ware, Smirke, Norman Shaw, Thomas Jackson and, more recently, Foster & Partners.
Chipperfield said: "The captured section of the engraving includes recognisable features of the RA building before the additional storey was added. The four categories of the RA are directly captured or referenced: architects; sculptors; painters; engravers, printmakers and draughtsmen. The text encircles and frames the scene."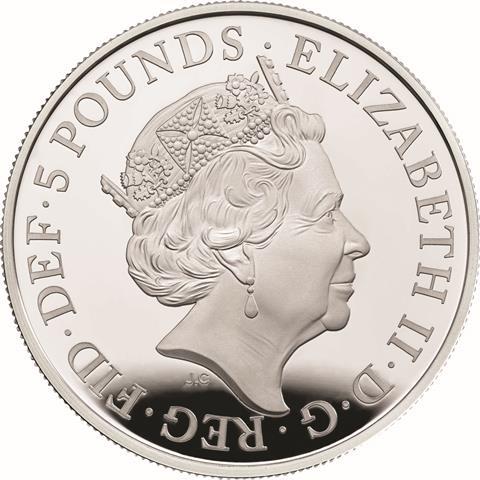 Chipperfield is working on the £50 million redevelopment of the RA, connecting its main Piccadilly home, Burlington House, with 6 Burlington Gardens immediately to the north.
This transformation of the entire two-acre campus is also timed to coincide with this year's 250th anniversary.
It will allow the academy to stage regular architecture exhibitions of the scale of its Sensing Spaces blockbuster. The architecture gallery is currently a corridor.
Two Royal Mint chief engravers have been academicians. Richard Yeo, a founding member of the Royal Academy produced designs for the coinage of George III, while William Wyon, who produced portraits of George IV, William IV and Queen Victoria became chief engraver in 1828.