Practice slots in five new homes at 'challenging' site in scheme that will bring boozer back into use
Boon Brown has won planning permission to redevelop a former pub in south London with a scheme that will deliver five new homes and reopen the bar.
Wandsworth council has approved its proposals, drawn up for James Laurence Group, to extend the Queen's Arms in St Philip Street, Battersea, increasing the size of its first and second floors and adding a new third storey.
The work will deliver four two-bedroom flats and a studio, and 333sq m of space for pub or restaurant use on the building's ground floor and basement.
Boon Brown architectural director Craig Jones said the project had been challenging because the pub was in the Park Town Conservation Area and was locally listed as a building of merit. He said the pub had closed two years ago and had been used as a shop, despite Wandsworth's policies on change of use for pubs.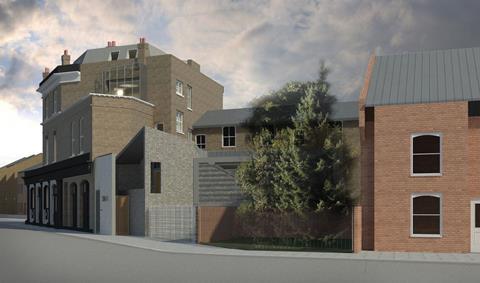 "To bring back a regarded local asset as well as providing much-needed housing has made the Queen's Arms project a joy to work on," Jones said.
"The Queen's Arms had been a public house since it was built in 1865 but closed two years ago. Despite attempts by Wandsworth council via Article 4 Directions, the pub was converted to a shop and now has planning permission to be converted back to pub use with integrated restaurant.
"An agreement with a successful local operator to take on the pub and restaurant post refurbishment should secure the future for the Queen's Arms."