Architect working with artist Jeremy Deller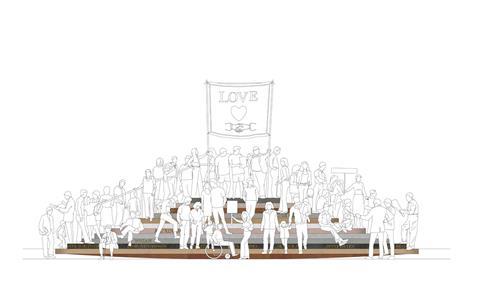 Caruso St John has been appointed to design a memorial to the Peterloo Massacre with the artist Jeremy Deller.
Peterloo was a defining moment for democracy in Britain. A 60,000-strong crowd walked from towns across the north-west to a meeting point in central Manchester, known as St Peter's Field, to demand parliamentary representation.
Shortly after the meeting began, on August 16, 1819, and while the orator Henry Hunt was making his address, local government forces charged into the crowd on horseback and, with swords drawn, injured around 700 people. They killed 18 men, women and children.
A permanent memorial to those who died will be erected in time for the 200th anniversary next year at the junction of Lower Mosley Street and Windmill Street – just a hundred metres from the heart of St Peter's Field.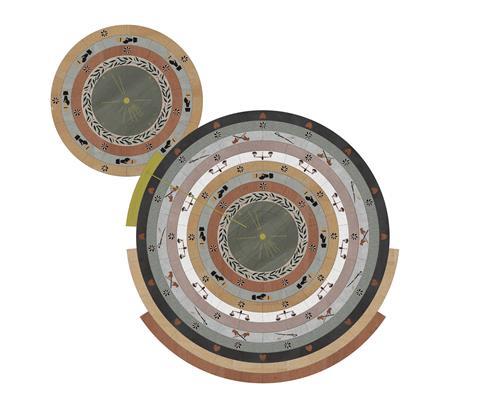 Conceived as a landscaped hill made of concentric steps, it will be built from a variety of stones chosen for their colour and texture from around the UK and potentially parts of the British Empire.
It is designed to be both a gathering place and a platform for oratory, and makes indirect reference to the two carts that made up the makeshift podium from which Hunt addressed the crowd.
The concentric arrangement of the monument also commemorates and echoes the march of people from the surrounding towns and villages, gathering to demand recognition of their rights.
These place names and the names of the dead will be engraved on to the vertical faces of the memorial.
The horizontal surface of the steps will also have inlaid decoration, with imagery associated with Peterloo, while the top will commemorate other peaceful protests that have been violently broken up by the state.
Councillor Luthfur Rahman, executive member for schools, culture and leisure, said: "Peterloo was a watershed moment in the history of Manchester and we have had the ambition to create a permanent memorial to it in the city for some time.
"The design concept Jeremy and the team at Caruso St John have come up with is as respectful as it is also unique and entirely fitting.
"It is at the same time both a memorial and a meeting place – a useful space from which future debate and peaceful discourse can happen."
The public consultation opens today.