Railway-to-park scheme has Studio Weave and Architecture 00 on board
Proposals to create a north London version of New York's High Line linear park have hit a funding milestone.
The backers of the Camden Highline project said their first month of crowd-funding to raise development cash had yielded "almost double" their initial target and secured endorsements from London Mayor Sadiq Khan, and more than 300 other supporters in the process.
Camden Highline would deliver a 0.8km park linking Camden Road Station with part of King's Cross along disused tracks next to London Overground's still-in-use the North London Line.
Earlier this year Studio Weave and Architecture 00 were appointed to the project, which aims to rival its 2.5km New York counterpart, built on a disused stretch of elevated railway line in Manhattan.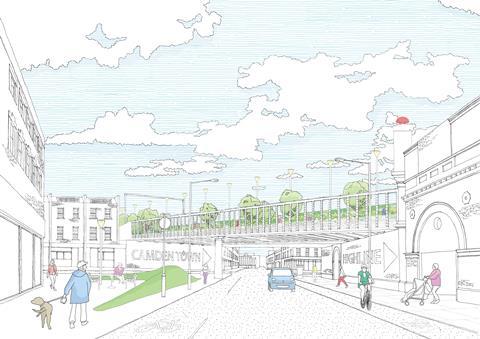 The Camden team said £64,000 had now been raised towards the project, and that the funds would be used for feasibility work, including establishing the condition of the existing infrastructure, the resources required for transforming the disused railway, and potential timelines for completion.
Simon Pitkeathley, chief executive of project backer the Camden Town Unlimited business partnership, said the crowd-funding milestone was "a small but very significant step" towards construction.
The Camden Highline group will be staging an exhibition and running a series of events – including walking tours – at next month's London Design Festival.