Footbridge praised for elegance and technical accomplishment
THE FOOTBRIDGE
MediaCityUK
Architect Wilkinson Eyre
Structural engineer Ramboll
Steelwork contractor Rowecord Engineering Ltd
Main contractor Balfour Beatty Regional Civil Engineering
Client The Peel Group
This footbridge over the Manchester Ship Canal in Salford has three main purposes. As a crossing, it improves pedestrian links around Salford Quays, forming a circular route via the Lowry bridge to link the BBC's new MediaCityUK base, the Imperial War Museum North and the Lowry Centre. At the same time, it needed to be capable of opening, to allow ships to pass along the water. And on a broader level, client The Peel Group wanted the £10 million structure to be a memorable and unique design that symbolised the ongoing regeneration
of the wider area.
Wilkinson Eyre's response was a cable-stayed asymmetrical swing bridge that refers to the shape of the industrial cranes once active along the waterside, supported along one deck by
a distinctive fun-shaped array of eight tapering masts. The whole bridge structure can pivot below the masts to allow access to shipping.
The bridge consists of two asymmetric spans and is curved in plan and elevation. On the north is the main 65m span over the canal and on the south is an 18m-long concrete-filled
hack span.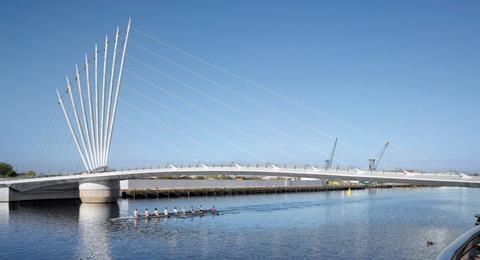 With weight a major issue because of the need for the bridge to swing open, the deck is designed as an isotropic steel box, which is considerably lighter than the equivalent concrete structure and also gives a much thinner deck.
The masts vary in height up to 30m, and converge at their base in a steel pedestal on a reinforced- concrete pier, on which the bridge pivots through 71 degrees to the west.
The welded deck structure is 4m wide at its narrowest, broadening out to form a 16m-wide public space at the south, where a bench cantilevered from each
cable anchorage prevents people walking into the cables. This back span area counter-balances the weight of the main span.
The bridge structure was brought to site in modular sections, then welded together and slid into position, held on temporary supports until the masts and cables were installed.
The judges praised the bridge for its elegance and technical accomplishment.
"It achieves its statement in a logical and graceful manner without being a forced, contrived solution," says judge Bill Thylor.
"It's very well made, and the workmanship is very well done."
Postscript
In association with The British Constructional Steelwork Association and Tata steel