Rogers Stirk Harbour + Partners' tour de force of rigour, attention to detail and engineering
COMMENDATION
NEO BANKSIDE
London
Architect Rogers Stirk Harbour+ Partners
Structural engineer Waterman Structures Ltd
Steelwork contractor Watson Steel Structures Ltd (Severfield-Rowen PLC)
Main contractor Carillion
Client GC Bankside LLP
Steel cross bracing takes centrestage at Neo Bankside, a collection of four 12 to 24-storey residential buildings designed by Rogers Stirk Harbour + Partners, close to Tate Modern on London's South Bank.
The diagrid external bracing system cuts dramatically across the apartment elevations to form a series of nodes. Yet rather than deter market interest, these became a selling point with
some buyers requesting nodal apartments.
As well as contributing to the visual identity, the tubular bracing plays a crucial structural role, transferring building stability forces through the nodes from the reinforced concrete frame to provide lateral stability, and reducing the requirement for shear walls.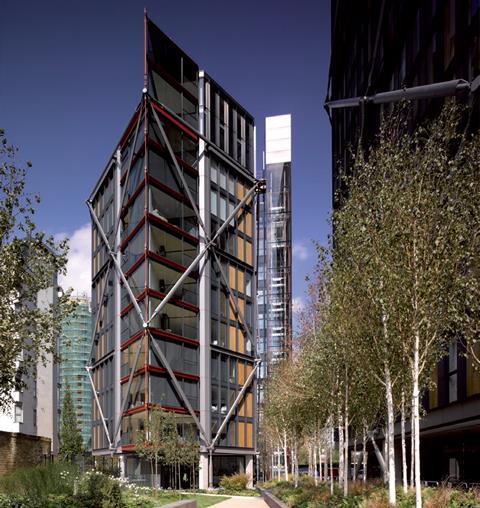 Because of the high visibility of the bracing, steelwork contractor Watson Steel Structures had to pay great attention to the visual impact of the welds. This required a great deal of cosmetic work to conceal and reduce the welds, with the steelwork contractors working closely with the architect on a mock-up of the bracing on site to achieve the desired effect.
The judges were impressed by the refinement and quality achieved on what was a design and build project. "It's a tour de force of rigour, exceptional attention to detail, and engineering," says judge Bill Thylor.
"Everything is beautifully made:'
Postscript
In association with The British Constructional Steelwork Association and Tata steel