Judges praise impressive geometric form and precision
COMMENDATION
RISE
Belfast
Sculptor Wolfgang Buttress
Structural engineer Price & Myers
Steelwork contractor M Hasson & Sons Ltd
Main contractor Wolfgang Buttress
Client Belfast City Council
A sunrise was the inspiration for Wolfgang Buttress's 37.5m-high sculpture Rise, near Belfast City Airport, intended to represent peace between the Catholic and Protestant communities.
"The location was a potential interface between the two communities," explains Buttress.
"The council wanted a new symbol for Belfast itself. It doesn't have a back or front but looks the same from any side."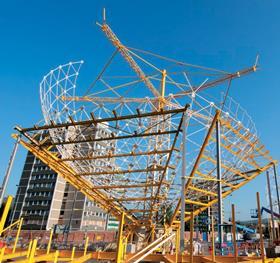 The sculpture was also influenced by the geodesic dome structures of Buckminster Fuller, and is designed to look as if it's floating despite its 53-tonne weight.
Buttress worked with structural engineer Price & Myers and steelwork contractor M Hasson& Sons to realise his design, and is delighted that the end result is true to the vision of the original maquette.
The design consists of two concentric geodesic spheres supported on a bed of steel "reed" columns - a reference to the marshlands previously on the site. The smaller sphere is suspended within the larger 30m diameter sphere by unobtrusive pre-tensioned galvanised wires.
More than 4,000 mild-steel tubular components were connected with around 10,000 bolts. Components were standardised into fewer than 60 types, including a dish-like node with a variety of holes to cater for all interfaces.
The entire structure is powdercoated in brilliant white.
The judges praised Rise's impressive geometric form and precision, and its complex assembly delivered on a busy site in the middle of a major roundabout.
Rise is the largest piece of public art in Northern Ireland. It is illuminated by integral lighting at the top of the reeds and has become a well-known landmark in the city since its completion
last year.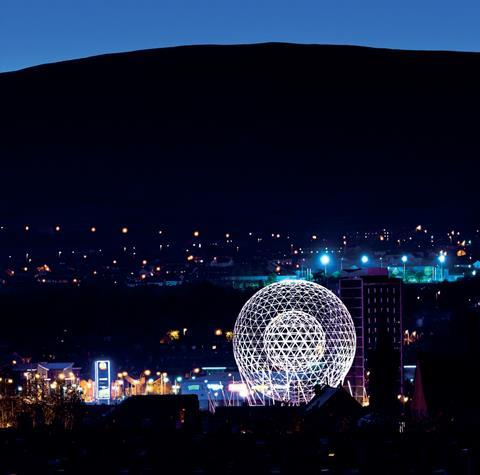 Postscript
In association with The British Constructional Steelwork Association and Tata steel