A double-propped cantilever creates a "quiet" and lightweight solutionn
COMMENDATION
JARROLD BRIDGE
Norwich
Architect Ramboll
Structural engineer Ramboll
Steelwork contractor SH Structures Ltd
Main contractor RG Carter Ltd
Client Jarrold (St James) Ltd
Commissioned to design a bridge over the river Wensum in Norwich, architect and structural engineer Ramboll took the long route, designing an 80m-long structure to cross the 35m-wide span.
This solution, achieved with a double-propped cantilever structure, delivered a gentle gradient no steeper than 1:20. This avoided the need for steps, instead making the bridge fully accessible for all pedestrians and cyclists.
Ramboll associate Stephen James explains that the designers considered a smaller arch structure, but found the cantilever could better accommodate the clearances needed for both river traffic and the riverside cycleway, as well as fulfilling the practice's wish to create a bridge with a sculptural quality.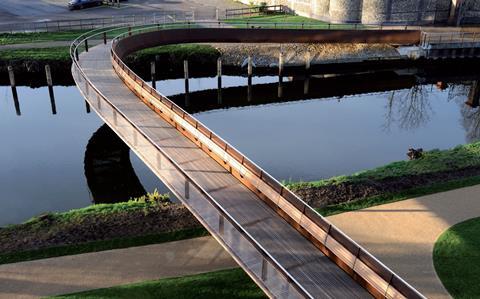 The palette of materials was chosen to blend in with the mature landscape while avoiding applied finishes in order to reduce maintenance requirements. The main structure was made from weathering steel, which will develop a deep-brown oxidised coating over time. The deck itself is untreated renewable hardwood, fixed with a hidden clamp system to bearers, which are then bolted onto the steel structure.
Inset fibreglass strips ensure slip resistance. The deck is enclosed with a stainless-steel mesh topped with a steel handrail.
The 3m-wide bridge curves vertically and on plan. It is fixed by concrete abutments at each end, and propped by two slender pin-jointed stainless-steel columns, enabling it to act as
two mutually stabilising propped cantilevers.
It took just two days to install the structure over the river. Steelwork contractor SH Structures made the bridge in five sections, assembling them on site.
"You could hardly pick out the join," says judge Oliver Tyler. "I thought it was very elegant and beautifully put together."
Postscript
In association with The British Constructional Steelwork Association and Tata steel