Flexibility is key for this multi-use building
COMMENDATION
DEPTFORD LOUNGE
London
Architect Pollard Thomas Edwards architects
Structural engineer Atkins
Steelwork contractor Conder Allslade Ltd
Main contractor Galliford Try
Client London Borough of Lewisham
Gleaming copper cladding unites a variety of uses within the Deptford Lounge development, which includes an academy primary school, a district library, artists' studios, and roof-top ball court and playground, all within one three-floor building.
The school component forms an L-shape around an open courtyard, with the Deptford Lounge itself forming the third side. Studios and flats on the far side of the courtyard shield the school from the road and railway. After school hours, the lounge will use large sections of the school facilities for community use.
The mixed-use building presented considerable acoustic and logistical hurdles for the design team, compounded by the presence of two large Victorian sewers beneath the site, which limited building loads.
According to Pollard Thomas Edwards associate director David Graham, both this loading constraint and the desire for an open-plan ground-floor library led to the use of a lightweight steel superstructure, combined with a reinforced-concrete stair and lift cores. This enabled the architect to deliver the large structural spans of I5.5m required for the library.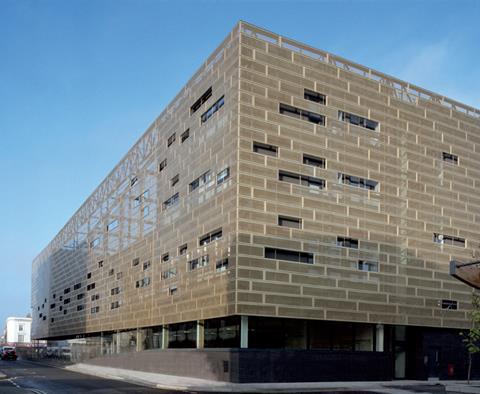 Coping with the different servicing requirements was also a challenge, and included the provision of a biomass boiler in the basement and duct routes for pellet deliveries. Offices and classrooms are naturally ventilated, and services are integrated through the webs of the deep long span beams.
The lounge building's distinctive external cladding is a twin layered system comprising a rendered wall insulation system and an external layer of tensioned cables supporting perforated copper sheets. They give a varied visual effect, and to control the degree of light in the classrooms, this perforation varies across the facade.
The ball court, situated on the top of the lounge building, is structurally isolated from the adjacent offices through the use of double beams on the edges of the ball court and a separated floor slab.
The judges praised the careful design and attention to detail, in particular the acoustic and thermal isolations between the different space uses.
'Accommodating all sorts of different uses on a big scale presented a lot of challenges," says judging panel chair David Lazenby.
"They have produced a really interesting, flexible, exciting building."
Postscript
In association with The British Constructional Steelwork Association and Tata steel