A desert sand-based concrete alternative, solutions made from unrecyclable waste and a date seed-based cementitious material hope to inspire specifiers to rethink their material choices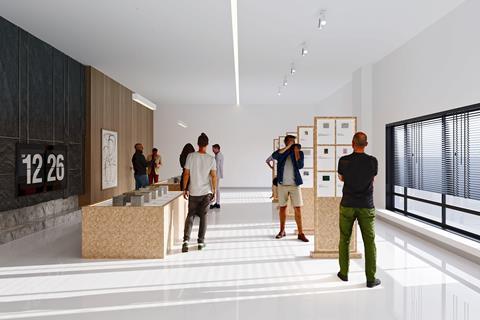 A fully modular, zero-waste concept is coming to Dubai Design Week 2023, hoping to change how we think about sustainability.
Dubai's digital material library, Colab, will be showcasing its Rethink pop-up at the festival from 7-12 November.
The pop-up will feature unique materials, with a focus on those developed in the United Arab Emirates (UAE) and the wider Middle East. The aim is to educate and inspire the design community, encouraging specifiers to 'rethink' the materials they specify.
A pocket-sized edition of the exhibit made its European debut at the London Design Festival earlier this year. However, visitors in Dubai will see Colab partnering with Desert Board to create a modular and reusable exhibit. Using Palm Strand Board (PSB), an engineered wooden board upcycled from palm biomass residue, the idea is to create a plug and play exhibition that can be reconfigured for different purposes and venues.
A key focus of the pop-up will be on UAE-made materials including Ramel, a locally sourced desert sand-based concrete alternative; Terraboard, an alternative to traditional wood solutions made from unrecyclable waste materials; Leukeather, a natural textile alternative to leather made from discarded dried pods; Palmade, a biodegradable material made from palm tree waste; and Datecrete, a date seed-based cementitious material without any trace of resin or concrete.
In addition to locally produced materials, a number of innovations will make their debut at the festival, including Delerex, a material made entirely from discarded lenses, without the use of glues or bonding agents; CeraFoam, a fibre-free ceramic foam board; and Sustaign, a recycled plastic with the aesthetic and properties of natural stone and marble.
The pop-up aims to encourage the architectural and design community to not only rethink the materials that they build with but also rethink their material consumption and how materials are specified.
Natasha Carella, programming director for Dubai Design Week, commented: "We are delighted to host Colab's Rethink, an innovative exhibition that presents a compelling vision of how sustainable materials can transform the way we construct and inhabit our built environments, that work in harmony with our ecosystem. Through this exhibition and others, visitors to Dubai Design Week will have the opportunity to engage with new and experimental materials, several of which have been developed here in the UAE."
Visitors will be able to find Rethink in Building 6 next to the d3 Architecture Exhibition in partnership with RIBA. If visitors wish to connect with any of the suppliers showcased, they will be able to do so via Colab's digital platform. The online database was created to enable specifiers to learn about materials and their applications, and to provide an option to contact suppliers directly.