One solution to achieve sustainability and lessen the brunt of climate change? For Taiwanese firm, Chain10, it's all in the design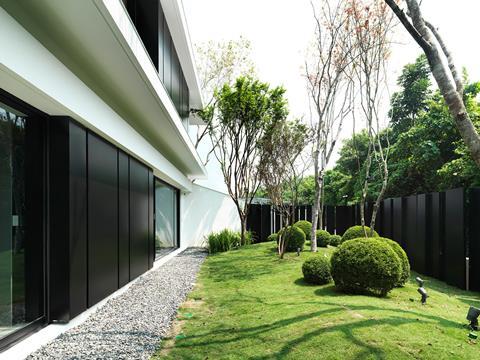 Taiwan is seeing the drastic effects of climate change with significant increases in sea levels, extreme temperatures and a number of natural disasters.
Taiwanese architecture firm Chain10 and the firm's founder, Keng-Fu Lo have been battling on the front lines by designing buildings that can withstand the elements. With an increase in extreme weather events, the firm has incorporated three essential design principles into its projects.
Durable design
Durable design ensures that buildings can withstand extreme weather conditions including heat waves, earthquakes, typhoons, and floods. For these projects, keeping structure and materiality at the forefront was a priority for Chain10.
The design team regularly specify Sto's silicone-based paint, which they believe can effectively prolong the life of buildings by offering excellent vapour permeability, high contamination resistance, outstanding waterproofing, anti-UV and other preeminent physical properties.
For Lo, paints provide an extra layer of protection in the fight against Taiwan's humid climate.
Sto also offers a biomimetic paint, developed by studying various animals and plants in nature, while Lo promotes that nature itself can be used to create more resilient structures.
Comfort in Context, a private residence in the foothills of Taiwan, utilised both Sto paint and trees as a buffer against the elements.
Renewable energy + natural resources
The Inflation Reduction Act of 2022 will make a historic down payment on deficit reduction to fight inflation, projected to cut emissions in the United States by 40% by the end of the decade. Similar incentives can be seen across the globe with the rise of electric cars, cheaper sustainable energy and Net Zero pushing for change.
This incentivises the use of renewable energies including wind and solar across all industries. Many of Chain10's projects use solar panels and alternative energy sources to power buildings. Habitat 29, currently in progress in Taiwan, is being built with electric car chargers to encourage residents to use alternative sources of energy.
Other projects, such as the Eden Oasis, rely on the use of natural resources and greenery in the area which cuts down on the removal of foliage and boosts the surrounding environment.
Eden Oasis is the team's single residence project, located in the southern city of Tainan, Taiwan.
Cutting emissions
While using alternative sources of energy helps in fighting against climate change, cutting down on carbon emissions altogether is essential.
Utilising locally sourced materials is multifaceted, it bypasses the need for transportation, supports the local economy and saves time in the construction process.
Lo argues that a commitment to biophilic design also aids in cutting emissions as the incorporation of greenery and large glass windows reduces the need for electrical air circulation systems and artificial lighting.
Chain10's design team often specify Senguan glass, which they advocate for offering good visual penetration and heat, UV and infrared resistance while still being lightweight. According to the design team, Senguan Glass can isolate 99.99% of UV Light, reducing the damage to human skin while also preventing the ageing and fading of indoor furniture. According to Lo, it is easier to obtain Senguan glass than other energy-saving alternatives, due to the manufacturing process.
Green Places Community Clubhouse, a shared space for residents in the Tainan Community, Taiwan, utilised all of the firm's key principles.