Gallery: Architect completes education and community centre to support grade II* landmark
Before the brickfields of Brixton there were wheat fields and it was to service these that Ashby's Mill was built halfway up the hill in 1816, its magnificent sails visible for miles around.
In the same year Vauxhall Bridge opened, one of several new river crossings at the time that made south London accessible and precipitated a wave of housebuilding. People in the city were eager to escape the noise and dirt and by the middle of the century the fields were disappearing under street after street of villas and terraces.
Even the miller, John Ashby, succumbed, striking a deal with local builder John Muggeridge to erect a row of seven houses on the eastern half of his land, creating what is now Blenheim Gardens.
He was unwittingly part of a building boom that by the late 1850s sheltered the mill so effectively that the winds were not strong enough turn its sails. In 1862 the Ashbys took them down and moved their operation to a watermill on the Wandle at Mitcham.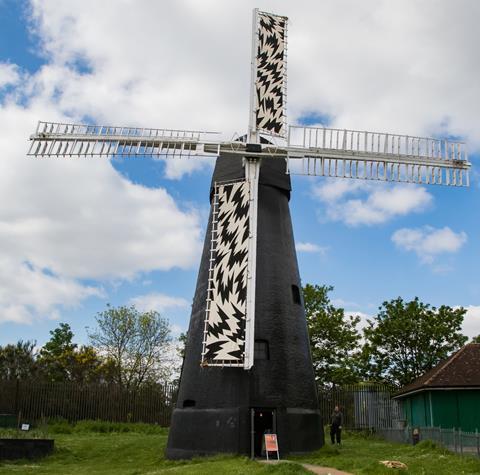 When that lease ran out in 1902 the family returned to Brixton and Joshua Ashby installed another set of millstones powered first by steam and later by gas so that he could grind flour without the need for wind. But by 1934 his son closed the business in the face of competition from factory-produced bread. He died a recluse, leaving the mill and its cottage to be administered by a trust.
By 1957, when London County Council bought the 2.5ha site for £7,845 to turn into a park, the buildings had fallen into dereliction and all were demolished bar the windmill which was restored and given new sails in the late 1960s.
But it was to become a familiar pattern. For decades the windmill suffered cycles of repair, neglect and vandalism until it was placed on Historic England's Buildings at Risk register in 2002 when the Friends of Windmill Gardens (FoWG) was formed and began working to find it a viable future.
Models and drawings
In 2016, the mill's bicentenary, Squire & Partners had just bought a dilapidated Edwardian department store at the bottom of Brixton Hill and was turning it into its new studio.
The practice was introduced to its lofty neighbour by Eley Kishimoto, locally based print designer to the likes of Alexander McQueen and BMW, which had created a unique "flash" sailcloth for the mill and was acting as its cultural ambassador.
Squires agreed to do a feasibility study for an education and community centre next to the by-now grade II*-listed windmill. The brief was for a flexible building for a range of community activities which the friends could use to host open days and school workshops as well as rent out for weddings and parties to generate income.
The building also contains a café and will enable the expansion of a social enterprise which mills flour using traditional techniques. Brixton Windmill flour is sold to local bakeries and restaurants.
The architect then took on the whole project pro bono to planning, charging a no-profit fee thereafter. Lambeth council stumped up £750,000 to build it. The cost doubled thanks to various complications on site related to utilities and a structurally unstable party wall.
The scheme won planning in 2017 and after that series of delays work started on site just before Christmas 2018. Fit-out happened over the summer and the FoWG plan to reopen for tours this month.
Squires partner Tim Gledstone said their design responded to the original miller's outbuildings with a crafted pitched roof structure using a douglas fir frame with tapered columns, and by cladding the exterior in a dark weatherboard.
The structure is book-ended by two gable walls in a soot-washed Staffordshire blue engineered brick to reference the black paint covering the yellow bricks of the 15m windmill tower.
Skylights in the dark grey roof allow natural light into the interior and a series of full-height bi-fold glazed doors open on to a decked terrace overlooking Windmill Gardens. Sliding panels with vertical slats allow light into the space and provide security when the building is unoccupied.
Internally, the exposed timber frame is the central feature. The walls are lined with plywood and the under-heated floor is pale grey screed/resin. Suspended pendant lights and bespoke plywood joinery for the café, pop-up shop and multi-use seating/storage/display units share a warm, muted palette.
Interior
Behind the main space a series of smaller rooms provide a grain store, kitchen, administration, cycle parking and WCs.
Gledstone said the project was a "symbol of hope for windmills everywhere".
He added: "The new building offers a self-sustaining future for the working windmill, enabling it to be enjoyed for another 200 years. A flexible frame allows the centre to be incrementally opened up for a variety of community, education and fund raising events, while durable and timeless materials create an accelerated vernacular on the site of previous miller's outbuildings."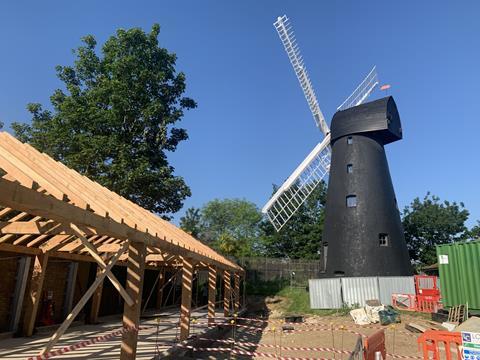 Jean Kerrigan, chair of FoWG, said: "Brixton Windmill has been at the heart of Lambeth for over 200 years. The opening of the education building is a momentous occasion for us and will allow FoWG to continue serving the local community by providing vital space for workshops, classes and our flour production. I would like to thank architects Squire & Partners for their design, commitment and generous support for this project and Lambeth Council for recognising the role FoWG has played within our local community for the past 17 years and having the confidence in our volunteers' ability to manage this wonderful new community space.
Project Team
Client: Lambeth Council
End user: Friends of Windmill Gardens
Cultural ambassadors: Eley Kishimoto
Architect: Squire & Partners
Structure: Heyne Tillett Steel
Services: Hoare Lea
Cost Consultant: Equals Consulting
Oak Frame: Carpenter Oak
Contractor: Logan's Construction
Bespoke Joinery: Modwood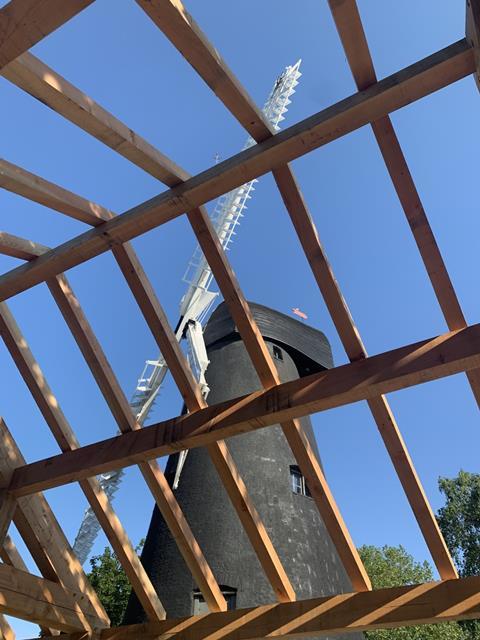 Postscript
This story has been updated to amend the final construction cost.