Two very different artists have found common themes and rediscovered the pleasure of the drawing board, writes Tony McIntyre
Back to the Drawing Board: An Exhibition of Recent Work by James Willis & Carl Laubin
The title of this exhibition is descriptive. While Laubin, immersed in research, had not painted for the previous two years, and had lost the fine motor skills required for his exacting technique (he reckons it took him a year to regain them), Willis was constrained to alter his modus operandi by lockdown conditions.
'For me,' writes Willis, 'sketching on location is the start of everything.' No more Rome or Venice, banned even from sitting down outdoors (when we were at last allowed to go outdoors), he could no longer make the sketches that formed the basis of his work.
Unable to use his large studio, he was now painting in a small room of his house: 'You couldn't be quite so gestural because you fling the paint everywhere… in a small space you could actually do a lot of damage.' Both men went back to the drawing board.
The two painters have, for over thirty years, lived just two hundred feet apart in the same street in Hitchin, meeting only four years ago, and are now close friends. Cleary there is intellectual and visual traffic between them, evident in the works exhibited here. I've been an admirer of Laubin's work since the late '80s, when I encountered his oil paintings of John Outram's Bracken House competition entry.
Through the years his work has progressed from what he called a desire to "create an image from contemporary architecture that would be as satisfying as an historical scene," towards reimagining historical works, usually as capricci, after the models of Gandy (for Soane) and Cockerell (of Wren's works and more notably The Professor's Dream), where a number of an architect's buildings and projects are massed together in a single image.
He has produced large and incredibly detailed canvases of the work of Palladio, Hawksmoor, Vanbrugh and von Klenze among others. A few of these works are exhibited here, but his most recent work is a series of reconstructions of schemes at the Greenwich Hospital, including Hawksmoor's second and third unbuilt schemes, for which he had spent the pre-lockdown years doing meticulous original research. In my view these are some of the artist's finest work to date.
A new element to Laubin's work, representing the majority of what is on display here, has been landscape painting, and here more than two dozen canvases, painted during the restricted-travel days, are restrained romantic images of the local countryside.
James Willis's work was new to me. Like Laubin, his primary interest is architecture, but his techniques are entirely different. Painting in oils and watercolour, his work has a freedom and vigorous spontaneity about it. Outside this exhibition his paintings compass the range from San Marco in Venice to graffiti covered parapets in Istanbul.

Here things are very much closer to home. With the limitations of lockdown, Willis turned his attention to the buildings of his native town. That this was Hitchin is a happy coincidence. It would be hard to think of a place richer in subject matter – according to Pevsner 'the most interesting and visually most satisfying town of Herts.'
These paintings – mostly watercolours – are fresh and full of vitality, the result of a determination not to be beaten by the pandemic and its inevitable constrictions. Perhaps this is to be expected. As Brian Flynn points out in one of the many excellent essays that form part of the catalogue, 'repeated bubonic plague outbreaks across four centuries from 1347 meant much of Europe's greatest art was … produced under the shadow of pandemic…'.
Perhaps inspired by his newfound friendship with Laubin, Willis has also produced a number of capricci of his own, stacking up the brick and tile and half-timbered buildings in heroic – or mock-heroic? – fashion. These are paintings to make you smile.
I've mentioned Flynn's article, relating art to past pandemics, and there are several others, among them Alan Chimacoff on perspective, Colin Dunn on Dutch Townscapes, Will Palin on Greenwich – all are illuminating. Both exhibition and catalogue are highly recommended.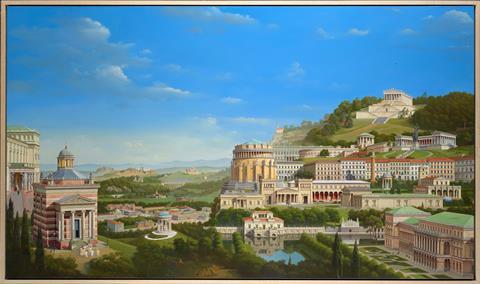 Postscript
Back to the Drawing Board: An Exhibition of Recent Work by James Willis & Carl Laubin is at North Hertfordshire Museum until 29th January