Eleanor Jolliffe talks to Tim Bell about his time at the British School at Rome, and its lasting impact on his work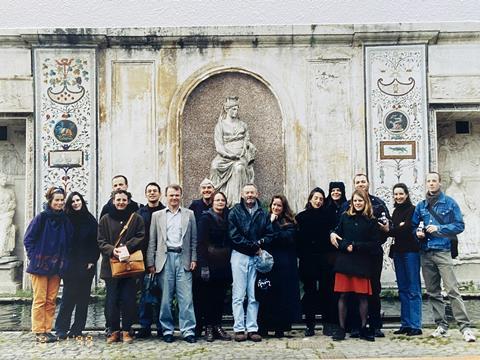 A Time of Gifts. It's the title of Patrick Lee Fermor's absorbing travel memoir, but also how Tim Bell describes his sojourn in Rome in 1998. Following the suggestion of his head of school at Edinburgh College of Art, Bell applied for the Rome Scholarship in Architecture at the British School at Rome (BSR). It was subsequently awarded to him and he spent nine months at the BSR studying the influence of Rome's public buildings and monuments on the street patterns and secondary elements of the city.
Bell has gone on since to co-found Bell Phillips, an innovative London architecture practice that focuses on the design of social housing. He freely admits however, that the time he spent in Rome was formative to his design theories, speaking of the 'masterclass' that each day in Rome seemed to offer in terms of space, light and geometry. It is also a time he draws on when he's in the thick of the nuts and bolts of procurement or delivery of a project - a point of inspiration around which he can centre himself when bogged down.
Bell always knew he wanted to start his own practice, but he found the BSR lifestyle instructive. The scholarship means its awardee essentially lives the life of an academic while at the BSR, studying in depth the thing that they love, conversing with other residents, all absorbed by the esoteric and the highly specific. There were also long stretches alone, walking the streets of Rome, and the luxury of time without commercial pressures - space to explore, to sketch and to think without the need to look at a watch.
Bell becomes quite emotional at the memory of walking home from other foreign institutes late at night (the different institutes have a long-standing tradition of hosting each other at parties of varying levels of raucousness). In the dark and silence, he remembered having the historic centre of Rome to himself, the weight of its history bearing in on him. Bell falls silent - an experience too deep for words.
A lifetime, Bell says, would not be enough time to explore Rome. The more you know about that city, the more you realise you don't know, and that you want to discover. Most importantly though it showed him the wider context of architecture - how a building is part of a city, driven by external elements. For example, the 'boring' and usually unsung infrastructure without which the Forum was unlikely to have been built.
Architecture, his 25-year-old self slowly realised, is so much more than a nice facade. The 'boring' stuff, Bell emphasises, is often the most essential part, something he reminds himself of when embedded in a long meeting on SUDs.
Life at the BSR is a life apart from the city, but utterly embedded in it. It's absorbing and slightly insular, with a rotating cast of academics and artists - who all meet at communal dinners. The residents tend to be at the top of their respective, usually highly specific fields and there is a culture of generosity that has been nurtured over the decades.
Bell remembers with gratitude the time and expertise of so many of those he met there - and the challenge their conversation brought. He spoke of the 'imposter syndrome' of being at a table of great academic minds and the way this motivated him to push to another level in his work there, and since. Every conversation was an education he recounted, both from its content and in the art of conversation itself.
He has kept in touch with the friends he made there over the decades since, talking about how Rome has turned up in unexpected ways as his life and career have progressed on from it. He learnt 'decent conversational Italian' while there and found the experience of embedding himself in another culture transforming, and addictive. He admits to applying for a job he was 'very underqualified' for in order to try and stay in Rome after his scholarship. This didn't work out, but he got a job in Norway for a short while before returning to the UK - and has often had a 'hankering' to work abroad again since.
Rome educated and inspired Bell, giving him a foundation in space and urbanism that he hadn't been aware he was missing. Our conversation lasted an hour, pausing throughout to leaf through the sketchbooks from his time there, or to compare remembrances; but it is clear we could've talked for days on this subject.
Rome is a largely unsung cornerstone of Bell's design and practice. He is now on the architecture faculty at the BSR, passionately keen to share the 'intangible' and 'difficult to communicate' benefits of the BSR with others. Bell's description of the BSR in two words? A fascinating gift.
Postscript
More information on the British School at Rome and its awards and residencies can be found here.